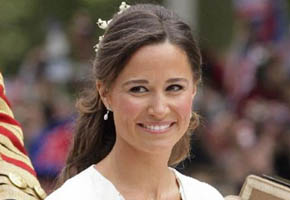 How might Pippa Middleton capitalize on her newfound fame, earning millions from public interest in her?
Fox News asked this question to a few PR experts. Gene Grabowski, Senior Vice President of Levick Communications, says: "Pippa can make tens of millions of dollars. But only if she has talent. Without it, she can capitalize on her beauty and charm, but only for a while and only for limited amounts of money."
He adds: "First, she needs to resist the cheap offers to pose in men's magazines and make quick money for celebrity appearances. Her air of mystery must be maintained for at least a while longer to build maximum potential. She cannot wait too long, however, because her value will likely diminish after four months or so."
In other royal wedding-related news:
• Sick of Pippa's bottom yet? Too bad! The young Middleton's prominent posterior is up for the "Rear of the Year" award, according to OK! Magazine. Other contenders for the title include Nigella Lawson, Rosie Huntington-Whiteley, Cheryl Cole, and yes, her sister Kate. Keep it classy, folks.
• Oh and one more thing about Pippa… Lady Gaga applauds Kate's younger sister for her royal bridesmaid look. "Kate looked great at the wedding but I thought the sister Pippa oozed style," she said. (MTV UK via The Daily Star)
• Royal wedding-style fascinators will be in fashion at this Saturday's (May 21) Preakness horse race in Maryland. "The royal wedding has definitely been a buzz word," Keith Pfeffer, a manager of a Baltimore hat retailer, told The Baltimore Sun. "It's on people's tongues… People are making a point to look for [fascinators] this year."
• The Czech government has offered a rare Old Kladruby White Horse as a state gift the royal newlyweds. This might not seem like an unorthodox present, but keep reading. The Duke and Duchess of Cambridge have asked that the five-year-old stallion, worth 30,000 euros ($42,759), remain on the stud farm. Instead, British authorities will receive, um, "a test tube with a specific genetic material" from the horse. Czech Prime Minister Petr Nečas told CTK, the Czech news agency, "In this way at least part of this stallion will get there in advance." It is speculated that the "genetic material" will be used to cross-breed the horse. Hey, at least, it's not another crock-pot.
• After two momentous days in the city of Dublin, Queen Elizabeth ventured to County Kildare on Thursday (May 19) for a tour of the Irish National Stud horsebreeding center, BBC News reports. The British Monarch chatted with other racing enthusiasts, and also enjoyed a jockey demonstration. Later, she and Prince Philip took in performances by the likes of Westlife, X Factor star Mary Byrne, and Riverdance during a star-studded gala hosted by the British Embassy.
• In spite of suggestions that the royal wedding put a damper on Britain's economy, AFP reports that the nuptials actually helped to lift retail sales in the UK. "Clothing and food sales jumped as Britons splashed out to celebrate Prince William's wedding to Kate Middleton on April 29, which was declared a public holiday." April was also an unseasonably warm month in Britain, which spurred consumer spending.
• Beatrice's blush-colored fascinator has been described as many things (octopus, pretzel), but the ginger-haired Princess of York will surely have the last laugh. Since putting it on eBay for charitable purposes just over a week ago, People reports that the famous Philip Treacy-designed hat has earned more than $32,000 (£20,200) in bids. If you're still looking to name your price, you have until Sunday (May 23).
• Think you know all there is to know about Queen Elizabeth I? Test your knowledge via a new iOS app named in her honor. iPhone, iPod Touch and Apple iPad users can download it for just 99 cents (61 pence).
Read More
Filed Under: