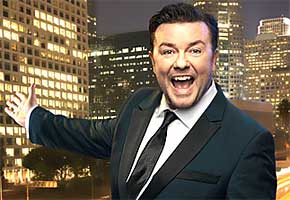 When Robert Rodriguez's fourth Spy Kids film, All the Time in the World, hits U.S. and UK theaters on August 19, I'm sure Ricky Gervais will have us laughing like no tomorrow.
Entertainment Weekly reports that the British comedian will lend his voice to Argonaut the spy dog. And it sounds like Gervais is pretty darn excited to be a part of the forthcoming 3-D comedy adventure.
"Not only am I lending my voice to Spy Kids, but they can keep it. I'm sick of it," Gervais said jokingly in a statement.
Also starring alongside Gervais will be Spy Kids regulars Alexa Vega, Daryl Sabara, Danny Trejo and Antonio Banderas, as well as Joel McHale, Jessica Alba and Jeremy Piven.
Read More
Filed Under: