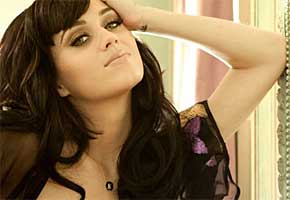 OK, this might start off looking like a slightly Ameriphenic news story, perhaps, but bear with me, the point will become clear.
Katy Perry has been talking to the Daily Mirror about Mary Poppins, the 1964 Disney classic that stars Julie Andrews (British), David Tomlinson (British), is set in London (Britain) and features what is famously the worst cockney accent ever seen on film, courtesy of Dick Van Dyke (not British).
Katy had been to see a theatrical production of the story in Sydney, Australia, and of course, the conversation turned to her own cinematic ambitions. And guess what? She'd totally do a remake. In a heartbeat. Whether it's a good idea or not.
She said: "I can't deny that I used to grab an umbrella and think, 'I could take off with the right winds' as a kid. I think I could play her if they remade it."
Brilliantly, she also had the perfect person to play Dick Van Dyke's chimney-sweep character Bert, her very own husband: "Russell could play Bert. He'd have less trouble with the accent than me."
And until very recently, he even dressed like a chimney-brush, so it's a perfect fit.
What could Katy Perry bring to the role of Mary Poppins that Julie Andrews didn't? Tell us here.
Read More
Filed Under: