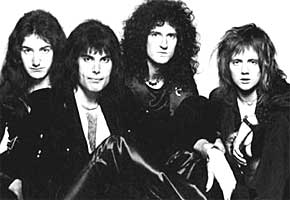 Queen fans, there's a new BBC documentary on the band coming your way very soon, to mark their 40th anniversary as a going concern. It's called Queen: Days Of Our Lives and it's going to be on BBC2 this weekend.
Both Brian May and Roger Taylor have undertaken extensive new interviews to cover the entire span of the band's career, and a massive trawl has taken place to try and find as much archive footage of the band at their peak as is humanly possible.
And one of the bizarre highlights of the piece will be a performance the band filmed for the BBC back in the early '70s, one which it was assumed had been erased years ago, but which ended up being accidentally recorded by the comedian Dick Emery. Yes, life IS strange, isn't it?
Brian May explained to BBC Breakfast: "A lot of it was discovered in strange places because in those days of course not a lot of people had domestic video recorders but occasionally things were captured by accident. Dick Emery actually captured one of our performances on Top Of The Pops which the BBC had wiped or lost, I don't know."
"And it's only a couple of months ago that this was found in somebody's collection. So suddenly we have this lost performance."
The film's producer, Simon Lupton, revealed to the band's website that the intention was to create a definitive account of their astonishing career.
He said: "That was certainly our ambition, and it is a very comprehensive look at the history of the band… Brian and Roger spoke incredibly intimately and, as you'd expect, very intelligently about what it was like. I honestly don't think I've heard them talk that openly before."
"I think there are plenty of surprises and revelations in there for the Queen fan, but hopefully even people who aren't really that into the band will find it fascinating and maybe view them with renewed interest. It's a two hour piece which is substantial, but even then we had to leave bits out as there wasn't time, so whether we've actually managed to make the definitive documentary or not is, I believe, for others to judge."
Here's a taster of the band in action:
http://www.youtube.com/watch?v=2AwaiAturyQ
Keen on Queen? Tell us here.
Read More
Filed Under: