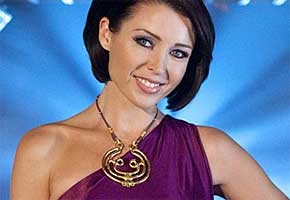 The story of Simon Cowell's 2011 has more twists and tangles than a bowl of spaghetti in a desktop fan. First he leaves Britain's Got Talent, then he goes back, then he leaves the UK X Factor and takes Cheryl Cole with him, in order to appear in the US X Factor, and all the while rumors and counter-rumors swirl around his stony cranium like a tornado on Easter Island.
And it's only getting worse. Now Dannii Minogue, one of the regular judges on the UK X Factor has decided to leave the show too, leaving only Louis Walsh from last year's panel. And it might not be an entirely voluntary decision on her part either.
Simon has been tight-lipped about her departure, but his publicist Max Clifford appeared on the ITV1 show This Morning, earlier today, try and shed a little light on things.
He started by explaining how the Dannii situation had become a headache for Simon: "He definitely wanted to keep her in because she was very popular and has worked very well. But in the last few months, because of the American X Factor, this X Factor has had an awful lot of juggling going on and it's a question of getting the best possible combination."
Yep, now that Simon and Cheryl won't be there, Dannii's huge popularity has somehow unbalanced the panel, because it, ah, tips Louis Walsh onto… the… floor? Is that it?
Max continued: "I don't think [Dannii's fans] will be [happy] and I do think that Simon took that on board but I think it was a question of trying to get the combination where he could get all of the people at the same time."
And when Max says "all of the people," he might well be referring to a dream panel of Louis, Gary Barlow from Take That, Kelly Rowland, and Tulisa from the UK band N-Dubz. The Sun certainly seem to think so.
A source said: "Simon has been telling producers he wants Kelly Rowland and Tulisa from N-Dubz and the simple fact is there wasn't room for everyone. Something had to give – and that something was Dannii."
Meanwhile, Max takes the view that it'll all be alright in the end, because no matter how much the show changes, it's big enough to weather the storm: "Don't forget it's the most popular show on television and the fact that when you're changing judges it makes front page and national newspapers, gives you some idea of how popular it is. A lot of critics are saying that the show won't be as popular and it won't work but they also said that when Sharon Osbourne went and Cheryl came in. They said that was a ridiculous choice."
One thing is for sure, the best way to make sure you're the only one who can score a goal is to keep moving the goalposts.
Can the X Factor even work without Simon? Tell us here.
Read More
Filed Under: