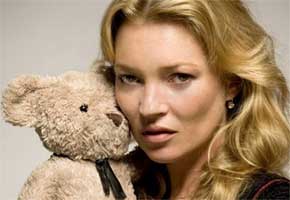 Kate Moss is not someone who give a lot of interviews. She's always adhered to the idea that it's her face that makes her famous and it should probably not be seen yapping away ten to the dozen. Plus the tabloids have kind of lawnmowered over her life choices a few times, so who can really blame her?
So it's lovely to see her talking — albeit not for very long — about her current state of domestic bliss, and how she's really looking forward to married life with Jamie Hince, and would even consider another child, a brother or sister to the now eight-year-old Lila, who she had with her ex-boyfriend, Jefferson Hack.
She told the German magazine Gala that she can see only good things in her future: "First of all I am going to get married. And maybe more kids? Who knows what the future will bring. My career is okay so far, anyway."
And displaying the kind of perfect life perspective you don't often see in someone as astonishingly famous as she is, Kate went on to add: "When I gave birth to Lila, after I did it I was just thinking, 'yeah! I really made it!'"
That's probably the painkillers talking, of course, but still, values in the right place. After all, can you imagine Naomi Campbell doing a Comic Relief video with a teddy bear?
Do we want our supermodels to be down to Earth? Tell us here.
Read More
Filed Under: