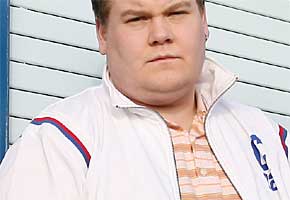 James Corden, star of Gavin & Stacey and sometimes Doctor Who too, has been speaking about how dangerously close he got to becoming "a d***" as a result of the extensive party lifestyle he embarked upon, when he first started to experience real success.
In fact, so close was he, that he decided to embark on 18 months' worth of therapy to try and work out what was going on.
He told the Evening Standard how much he enjoyed the process: "It's just sitting talking to someone, but when you say things out loud you think more about how you've been behaving at certain times."
"I was aware that perhaps I was becoming a bit of a d**k. Therapy is nice. I'd recommend it to anyone. It has been beneficial to be being happier, and a better boyfriend, and a better friend. I'm just grateful that I was able to sort of wake up in enough time."
Not that he'll have been spending too much time asleep recently; his fiancee Julia recently gave birth to their first son Max. And for someone who used to turn up to the opening of a bottle of milk, James couldn't be happier with his domesticated new life.
He said: "[Julia's] the best thing that's happened to me. She just really nice to me. The truth is, all that time I was going out it was only ever to look for someone I could stay with."
Don't you just love a happy ending? Tell us here.
Read More
Filed Under: