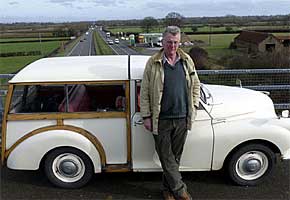 There aren't a lot of famous roads in the history of popular culture, are there? Highway 61, yes. Route 66 — and its offspring, Billy Bragg's "A13" — yep. The New Jersey turnpike pops up in Simon and Garfunkel's "America," and there are all the moany rock songs about The Road in general, but otherwise it's a bit of a blank area.
But there is an English thoroughfare which has captured the imagination of pretty much everyone who has ever driven along it, not least because it runs straight past Stonehenge, the most famous neolithic monument in the world. Ladies and gentlemen, I give you, the A303!
The road runs south and west from the A3, just outside London, all the way down to the border between Devon and Cornwall, at the toe end of England. Parts of it date back to Roman times, parts of it a medieval, and some of it was tarted up in the 1960s to be one of Britain's first superhighways (before the motorways came along and out supered them).
It's famous for being a bit windy and strange, and also gumming up every time someone takes a caravan to Cornwall. And now it's the subject of its very own BBC4 documentary, by Tom Lott, who is something of a fan.
Explaining how the idea came to him in a BBC blog, he said: "Between the Avon and the Wylye it went past Stonehenge. Like everyone else, I wondered about Stonehenge. Then I started wondering about other aspects of the landscape that flashed past the window.
Like Andover and the big slab of forest before it. Like Amesbury and the weird metal bloke on his knees by the turn-off. Like the burial mounds. The shape of a story formed. A book, I thought. Then someone came along and said, "What about a film?"
Oh, and in case you think a celebrity road isn't a celebrity road unless there's a song about it, here's Britpop '60s throwbacks Kula Shaker performing their ode to the A303, in 1996:
Which road would you celebrate in song? Tell us here.
Read More