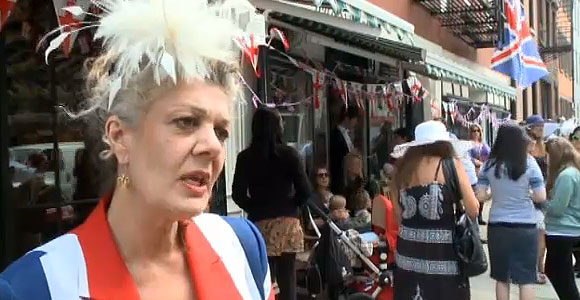 Bunting, fascinators, Union Jacks, Morris Dancers — no, not a British royal wedding street party, but a corner of Greenwich Village, New York that seems to be forever England. Cardboard cutouts of William and Kate decked the street, dogs wore festive attire, and the organizer-in-chief Brit Nicky Perry looked on with pride. Wearing a Union Jack dress, of course. Nicky is the owner of the local British-themed tea shop Tea and Sympathy, and the idea of an old-fashioned knees-up to celebrate the royal wedding came naturally to her.
Four women from Wilmington, North Carolina who'd come to New York for the wedding made a beeline for the street party. They lunched at the brasserie Lyon, sipping champagne, wearing spectacular hats, and watching a rerun of the wedding. "We're from the South, and we love tradition," said Barbara, who was combining her 50th birthday celebrations with Kate and William's wedding. "These two are going to be so good for the monarchy."
New Yorker Terence Vaughan agreed, seeing in the royal couple a modern, down-to-earth sensibility despite their privileged position. "I got up 30 years ago to watch Diana marry," reminisced Terence, "so I had to do the same for William. It's tradition, and it's fun."
Not everyone at the party was a fervent monarchist. The musician Glen Tilbrook from the band Squeeze flew over from the UK to perform in the local park, despite his Republican sympathies. So did even he have royal wedding fever, I asked? "This seems like a caricatured, Disneyfied version of Englishness," came the reply from the guitar-strumming Glen.
One in which virtually everyone else seemed to revel. A real-life Pearly King and Queen, symbols of the East End of London, made a singing appearance at the party. "Knees Up Mother Brown" was their signature tune, as baffled but appreciative New Yorkers looked on.
Nicky Perry surveyed the scene with great satisfaction. "People here loved Diana," she observed, "and this time they're hoping the fairy tale is for real."
Read More
Filed Under: