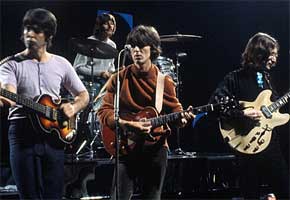 Liam Gallagher has revealed that his production company has now finished work on the script for a movie about the Beatles' near-ruinous business venture, Apple, and he's now on the lookout for actors.
Based on the book The Longest Cocktail Party, by Richard DiLello, the film will focus on the band's attempts to create a groovy business empire, making records and films and electronic devices, using only their '60s ideals and overabundant confidence to guide their way. The corporation was run by their press officer, the insouciant Derek Taylor, and has always been held up as a monument to rock star naivety (not that Apple is doing too badly these days, of course).
Liam told Q Magazine: "The film script is done. It's gonna blow people's minds, man. I'm just waiting to find out when we choose the actors. I want Johnny Depp to play Derek Taylor. It's got Johnny Depp written all over it, man."
"Derek Taylor was a dude. He's up there with Lennon."
Which is all very well and good, but let's hope they get some better Beatles than the recent BBC film Lennon Naked did.
Weird, isn't it? I love the Beatles, I love Christopher Eccleston, I love the BBC, and yet you put them all together and something falls out. They've got all of the facial mannerisms and none of the charm, John is clearly a much older man than the other three, and worse, for Beatlenuts like me, they've got 1966 moptop John Lennon giving a press conference in psychedelic '67.
Mr Gallagher, you have your work cut out for you. Especially now that Ian Hart (Backbeat) is too old.
Who would make a good John Lennon? Tell us here.
Read More
Filed Under: