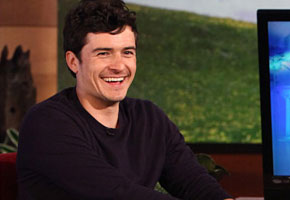 Orlando Bloom is talking as if he's been fully cast as the elf Legolas in the two-part Hobbit movie currently being shot in New Zealand — but he still won't officially confirm his involvement.
When asked he just says: "I can't really discuss it too much at this point, but I'm very excited at the prospect of being a part of it again. I think it will be wonderful to get back there."
Sounds like he's doing it but hasn't yet signed on the dotted line.
Playing Legolas in the first Lord of the Rings movie ten years ago was Bloom's breakthrough role. He's a big admirer of Sir Peter Jackson, who is of course the director of both The Lord of the Rings series and The Hobbit films. "Pete's a remarkable man. He's just a very down-to-earth, very real guy. He's an amazing director," he says.
Although the 34-year-old actor has appeared in some quite different movies the adaptations of Tolkien's works hold a special appeal: "I think the message behind Lord of the Rings and The Hobbit is one that speaks to everybody, that the smallest of the race of beings can go the furthest, and that anything is possible — and it's a world that seems to resonate for people. It suspends reality. You can sort of get lost in it."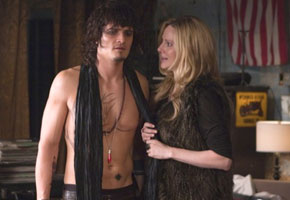 These are good times for the actor. This week it's been reported that he'll be starring opposite Greta Gerwig in a new romantic comedy — and he's been in New York promoting his role in two new films: The Good Doctor, a psychological thriller, in which he plays a medical resident mesmerized by a young patient, and Sympathy for Delicious, in which he portrays a raucous rock star who exploits a faith healer. He'll also be seen as the Duke of Buckingham in a new adaptation of The Three Musketeers out later in the year.
Bloom has worked with several top filmmakers, but he told me collaborating with Mark Ruffalo, who directed the just released Sympathy for Delicious, was particularly rewarding: "He's always been one of my favorite actors, and I've never been directed before by an actor, and to be directed by Mark Ruffalo was a remarkable experience. It was a real eye-opener, and it gave me an insight into working that I was very grateful for."
Ruffalo's film covers a lot of ground, but it primarily aims to get audiences to think about healing and faith. Bloom says: "I think faith is an incredibly important part of life, whatever your preference is."
http://www.youtube.com/watch?v=dAXOBLqUaZ8
http://www.youtube.com/watch?v=uvHqXkUZaS4

Tom Brook's reports on cinema can be seen every Tuesday and Thursday morning on BBC America.
Read More
Filed Under: