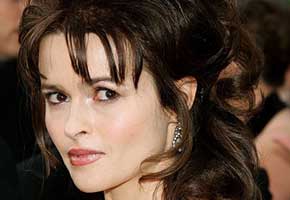 There is no one quite like Helena Bonham Carter, is there? The BAFTA-winning actress marches to the beat of her own drum when it comes to fashion, and she most certainly does the same (and superbly so) when it comes to film.
We've seen her at her eccentric best in such roles as the witchy Bellatrix Lestrange in the last three Harry Potter films, the domineering Red Queen in 2010's Alice in Wonderland and Ari the female chimp in 2001's Planet of the Apes remake. So whenever the 45-year-old King's Speech star discusses how she thrives on such strange parts, you can bet we're totally listening.
"I love dressing up and playing weird women," Bonham Carter explained to Germany's Tele 5 website. "It would be boring for me to try and look as beautiful as possible on screen. Tim Burton absolutely understands that and leaves me to choose which characters I want to play in his films."
She continued: "In my view women like that are ill, and for some reason I'm attracted to that. It makes me wonder what made them turn evil. As an actress it's my job to be understanding towards women like that and to not be judgmental. Something about this madness attracts me." (via Yahoo! UK News)
Helena Bonham Carter's best 'weird' role? Tell us here.
Read More
Filed Under: