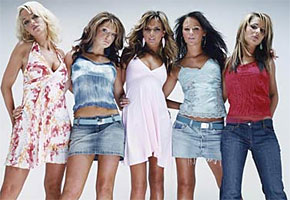 You may remember a short while ago we reported on the rumor that Girls Aloud would be reforming to celebrate their 10-year anniversary as an astonishing pop group, by appearing at the opening ceremony for the 2012 Olympic Games in London. And if I remember rightly, we were a little skeptical that this would come to pass.
Well, it's not looking any more likely, given that certain members of the band had no idea that the offer was even there. Certainly Cheryl Cole isn't thinking about it, she's off judging for the US version of The X Factor, we shan't see her until after Christmas. And Nicola Roberts is too busy trying to get her solo career off the ground.
So while it is true that the Saturdays, who are to Girls Aloud what The Phantom Menace is to Star Wars, will be performing at a concert to promote the Paralympics, the Girls girls will, in all probability, not be performing at the main event.
Kimberley Walsh of the mighty Aloud wrote in her column for OK magazine: "There was a story about Girls Aloud marking our ten-year anniversary with a reunion gig at the Olympic Games. That's news to me!"
"It would be an honor to open the Olympics but we haven't discussed that. The five of us definitely have plans to do something to mark the anniversary, though, but I'm not sure the Olympics is the place for that."
"I think, for the fans, we'd like to perhaps do something on our own instead of as a bill of different acts."
Just don't leave it too long, hmm? Otherwise Cheryl will wind up next to Simon Cowell as a judge on the very first Moon's Got Talent, and THEN where will we be?
Who do you think should represent UK music at the Olympics? Tell us here.
Read More
Filed Under: