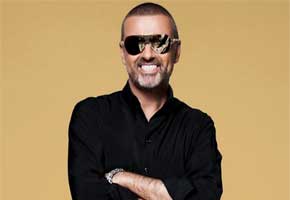 I'm glad to hear that George Michael has reneged on that whole "I'm never going to tour again" thing upon wrapping up his massive 25 Live Tour in 2008. Yeah, he did a few shows in Australia last year prior to his Snappy Snaps debacle, but the ex-Wham! star revealed on his official site on Wednesday (May 11) that he'll be hitting the stage for a 47-date, four-month run of Europe. Woo hoo!
Just last week, Michael teased via Twitter that a tour announcement would be coming up. And kicking off August 22 in Prague, Michael's Symphonica Tour will see him drawing from his vast catalog of hits, while throwing in some of his personal favorite cover tunes as well — and all with an accompanying orchestra (!!!). You can probably bank on his autotune spin on New Order's "True Faith" making the setlist. His recent tribute to William and Kate, a cover of Stevie Wonder's"You and I," should also be a safe bet.
Michael is seemingly thrilled to hit the road too. The 47-year-old singer got a little cheeky recently and said that he may perform in the buff, as he's shed 15 pounds since leaving jail last October.
And rest easy, U.S. fans. Michael has plans to head stateside … just not this year. He stated earlier today, "Please remember boyz n girls, this is just the first leg of the tour, next year im hoping to cover the globe……"
YAY!
Read More
Filed Under: