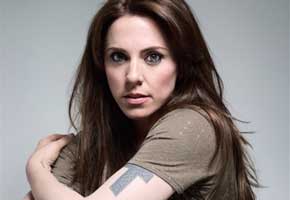 In the June issue of Britain's SHE magazine, The Daily Mail reports that Melanie Chisholm — a.k.a. The Spice Girls' Sporty Spice — opens up about how motherhood has truly made her a better and healthier person.
With the overwhelming pressures of being in one of the biggest pop acts in the world, and on top of managing a flourishing solo career, Chisholm battled depression and bulimia for years. But when she got pregnant with daughter Scarlet in spring 2008, Chisholm was encouraged to, once and for all, take control of her health.
"Scarlet [who was born in February 2009] hasn't just changed my life, she's saved it," the 37-year-old English singer/songwriter and West End actress confessed. "As my bump grew the more proud I became of my body and suddenly I felt more comfortable eating healthily."
She continued: "I put on almost 50lbs and I certainly wasn't in any rush to shed my baby weight. There's too much pressure on mums to ping back into shape."
Chisholm is currently hard at work on album No. 5. Its first single, a sizzling dance number called "Rock Me," arrives overseas June 24.
Read More
Filed Under: