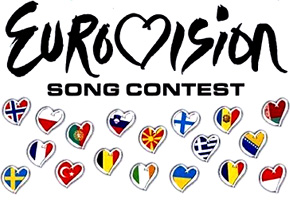 That's it then. The second semi final of Eurovision is over, eyeballs have been peeled, ears destroyed, all of the 25 finalists have been selected, and there is, in a very real sense, no turning back.
The big surprises? Well the Netherlands have gone, and they're usually very good, as have Belgium, Slovakia, Cyprus, Bulgaria, Macedonia, Belarus and Latvia.
Dana International, who you'll remember won the whole darn shooting match in 2000, has not repeated the feat. Her entry for Israel has also been kicked to the kerb.
Which means that the final lineup for the, well, FINAL, is as follows. We've added a few of the performances to give you a flavour of what lies ahead:
Estonia: Getter Jaani – "Rockefeller Street"
Greece: Loucas Yiorkas feat. Stereo Mike – "Watch My Dance"
Russia: Alexej Vorobjov – "Get You"
Bosnia & Herzegovina: Dino Merlin – "Love In Rewind"
Lots of math in this one.
Denmark: A Friend In London – "New Tomorrow"
Lithuania: Evelina Sašenko – "C'est Ma Vie"
Hungary: Kati Wolf – "What About My Dreams?"
Ireland: Jedward – "Lipstick"
Look, there's no real way I can prepare you for this. Ireland's entry is confusing, in a lot of ways. What you have to understand is that Jedward are twin boys called John and Edward, they were on The X Factor in the UK, and did really well despite being untroubled with excess talent. They are, however charismatic in the extreme. But not in a particularly impressive way.
Bookies have shortened the odds on a Jedward win considerably, it's fair to say:
Sweden: Eric Saade – "Popular"
Finland: Paradise Oskar – "Da Da Dam"
France: Amaury Vassili – "Sognu"
Moldova: Zdob s,i Zdub – "So Lucky"
There are no words. NO WORDS.
Italy: Raphael Gualazzi – "Madness Of Love"
Switzerland: Anna Rossinelli – "In Love For A While"
United Kingdom: Blue – "I Can"
Austria: Nadine Beiler – "The Secret Is Love"
Germany: Lena – "Taken By A Stranger"
Azerbaijan: Ell/Nikki – "Running Scared"
Slovenia: Maja Keuc – "No One"
Ukraine: Mika Newton – "Angel"
Iceland: Sjonni's Friends – "Coming Home"
Spain: Lucía Pérez – "Que Me Quiten Lo Bailao (They Can't Take The Fun Away From Me"
Serbia: Nina – "Caroban"
Georgia: Eldrine – "One More Day"
Romania: Hotel FM – "Change"
If you wish to see the whole astonishing event, it is being streamed from the official Eurovision website, tomorrow (Saturday 14th May) from 3pm (EST).
Read More
Filed Under: