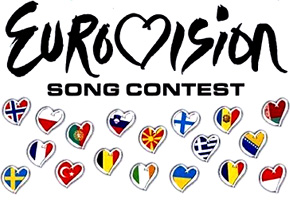 Eurovision fans — and I know we've managed to convert at least some of you over the past few weeks — your long wait is nearly over. Last night saw the first of two semi finals, the purpose of which is to whittle 43 entries down to 25 for Saturday's final. There were 19 last night, and there'll be 24 on Thursday night (or mid to late afternoon if you're in the States).
So, how did it go? Well, here are the headlines:
Turkey, who fielded a belting rocker in the Bon Jovi vein, are OUT. As are:
Norway's gospel/dance number (which was highly-tipped to win the entire contest)
Albania's mock-Broadway thing
Croatia's self-help club banger
Poland's cool little shuffle Portugal's Sesame Street cheerathon
San Marino's Sheryl Crowish howl-up
Malta's proto Gaga doohickey
Armenia's perky Black Eyed Peas-type romp.
So, these are the countries who have secured their place in the final so far: Serbia, Greece, Azerbaijan, Lithuania, Georgia, Switzerland, Hungary, Finland, Russia and Iceland.
As you may remember, we favour Serbia and Russia from that list. And here are their performances from last night, to illustrate why:
Serbia's entry: Nina – "Caroban"
Groovy, eh?
Russia's entry: Alexej Vorobjov – "Get You"
And this is just a very good pop song. But there's a also lot of love for the perky, Osmonds-gone-folk quality of Iceland's entry — Sjonni's Friends – "Coming Home" —, so here's that too:
Watch this space for the a report on the second semi final, which will feature the Slovakian duo Twiins going head-to-head with Ireland's own Jedward, who are also, y'know, twins. And we'll find out if Blue can make it through too.
C'mon, this is exciting, right? Tell us here.
Read More
Filed Under: