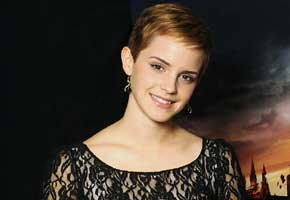 Here we are, just under eight weeks away from seeing the second part of the final Harry Potter film, Harry Potter and the Deathly Hallows. Are you ready?
Emma Watson is totally geared up! In fact, the 21-year-old English actress recently teased to Newsweek that her character is fiercer than ever. Well, to put it bluntly, Hermione Granger is going to kick some serious ass.
"You see a different side of Hermione," Watson said. "She's more like Lara Croft. The pace is absolutely relentless. It's like a two-hour roller-coaster ride."
Sure, the sweet Hermione won't be packing heat with a utility belt, but we know that she, Harry (Daniel Radcliffe), and Ron (Rupert Grint) are in for the fight of their lives against the wicked Lord Voldemort (Ralph Fiennes).
"This is the best, because it's the finale," Watson explained. "We've put our heart and soul, blood and guts—and tears!—into it. The special effects are mind-blowing. I don't know what happened: are we using a different team, or do we have more money?"
Read More
Filed Under: