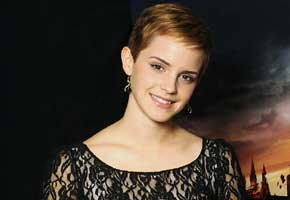 Readers of the UK's Glamour magazine have voted Harry Potter star Emma Watson as their Best Dressed Woman of the year, knocking last year's winner, Cheryl Cole, into second place. We've had a quick vote around the office and we're pretty sure it's the elvishly cropped hair that did it. People do like a brave haircut.
Anyway, the rest of the Top 10 are as follows: Kristen Stewart (clearly big fantasy film fans, Glamour readers), Dannii Minogue from the X Factor, TV presenter Alexa Chung, Rihanna (you know her, right?), Kate Moss (ditto), Blake Lively (no, sorry, no idea), reality TV star Olivia Palermo and Lea Michele from Glee.
Yeah that last one is a puzzler for us too.
You'll notice Victoria Beckham is not among these names, she's fallen down to No.15 (I know, it's exactly like the chart report, isn't it?), and nor is Kate Middleton, who isn't even mentioned. The oddest couple of entries are Samantha Cameron, wife of our Prime Minister and commonly known as SamCam, and Suri Cruise, who is five years old.
Meanwhile, at the bottom of the heap, Glamour readers think Katie Price is the worst dressed woman, with Lady Gaga running her a close second. Needless to say, Katie will be delighted with this, after all, a win is still a win.
Who's your best and worst dressed female celeb? Tell us here.
Read More
Filed Under: