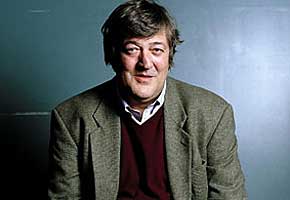 Astonishing news from the set of The Hobbit! Peter Jackson has confirmed that they've cast our favourite polymath boffin Stephen Fry in the film, AND that the two of them are developing a new film about Sir Barnes Wallis, the inventor of the "bouncing bomb" that destroyed German dams during the Second World War.
Writing on his Facebook page, Peter said: "Some more Hobbit casting news today. As we near the end of our first shooting block (we have a break in less than three weeks to get some editing and visual effects work done, plus prepare for very big scenes coming up), we are looking at characters featuring in sequences that take place a little later in the story.
"We are thrilled to confirm that Stephen Fry will be playing The Master of Laketown. I've known Stephen for several years, and we're developing a Dambusters movie together. In addition to his writing skills, he's a terrific actor and will create a very memorable Master for us.
"The Master's conniving civil servant, Alfrid, will be played by Ryan Gage. Ryan is a great young actor who we originally cast in a small role, but we liked him so much, we promoted him to the much larger Alfrid part."
"Last, and certainly not least, is Conan Stevens, who will be playing an Orc called Azog (Orcs are never called Roger or Dennis for some strange reason). And yes that's his name — Conan! Isn't that cool? Azog is played by Conan!"
And this is the best bit: "Here's a photo of Conan and I together… I'm pretty tall, probably at least 6' 5" or 6' 6" I would guess, so that gives you some clue how tall Conan is!"
Yeah, he's kidding.
Who else would you like to see cast in The Hobbit? Tell us here.
Read More
Filed Under: