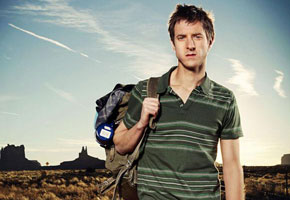 You'd think that being a cast member on Doctor Who would at least allow you the inside track on what's going on storywise, wouldn't you?
Well, according to Arthur Darvill, who plays Rory, that's not the case, not even a little bit. He told SFX: "We just speculate on everything now. And we've all got these little theories as to what's actually happening – which I can't divulge, just in case any of them are actually right! Even with episode one we were like oh, my god, I can't believe… it just throws up so many questions as to what's going to happen. And no one's telling us yet, so we're still at that point of fevered anticipation. Everything's on a knife-edge."
• Pirates and sirens and swords, oh my. After that jam-packed two-part season opener, we venture  to the 17th century, where we find the TARDIS marooned on a pirate ship. British actor Hugh Bonneville, who recently played the Earl of Grantham on Downton Abbey, guest-stars in this episode. Watch the trailer, in which you can see Amy Pond displaying impressive swashbuckling skills. The episode, titled "The Curse of the Black Spot," premieres Saturday, May 7 at 9 pm.
Would you like to see some more pics of the next Who adventure Curse of the Black Spot? You would? Over to Digital Spy you go then.
• Oh to travel back in time… but lucky for us, we can live vicariously through Doctor Who. Check out the Top 11 Cool Things About Time Travel according to the 11th Doctor:
http://www.youtube.com/watch?v=olw2_HOcX-ct
• Steven Moffat has revealed that he does find the experience of writing the Doctor a strain, mainly because he's such an extreme creation. He told Doctor Who magazine: "The Doctor is brilliant fun to write, But he's exhausting, because you're constantly trying to write somebody who's got an extraordinary mind, when you've only got an ordinary one. I have to do that with Sherlock Holmes as well."
Reports that Moffat's next project will be a remake of Dumb and Dumber are thought to be made-up. By us. (via On The Box)
• Did the 11th Doctor sneak into royal wedding?
• Whovians, it's time to brush up on your banking skills. On August 1, the limited edition Doctor Who Monopoly game will be released. Pre-order yours now because there are only 5,000 available.
• John Simm says he's open to reprising the role of The Master in Doctor Who. "I haven't spoke to anyone about it, but I would definitely consider it [if asked]," he remarked. "It was such fun to do." There has been some fan push to have Sherlock star Benedict Cumberbatch take on the role of the Master, but Steven Moffat batted away such claims during the cast and crew Q&A in New York last month. (via Digital Spy)
• One person you shouldn't expect back on Doctor Who is No. 9, a.k.a. actor Christopher Eccleston. Although he praised the show and admitted that he pursued the role back when Russell T Davies announced the reboot, he told Graham Norton on BBC Radio 2, "No, I never bathe in the same river twice."
Read More
Filed Under: