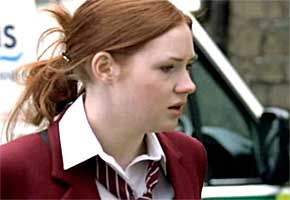 The career of an actor is a long an arduous process. You can be battling away for years before you finally nab the role which captures the public's imagination. And if you are, chances are you'll be leaving behind a long and fruitful trail of clips in your wake. Some impressive, some preposterous, but all of them quite, quite fascinating for your new-found fans.
Here is just a brief selection from the video resumes of some of our more notable recent TARDIS dwellers.
The Doctor: Matt Smith
A bit of a Whovian coup, this one. One of Matt Smith's earliest TV roles, in The Ruby In The Smoke from 2006, and he's playing opposite Billie Piper, of Doctor Who fame (setting quite a lot of rumours going in the process, I might add). AND he gets to say "shut your bum and give your face a chance," which makes this something of a perfect clip.
Amy Pond: Karen Gillan
Karen's big TV break was a star turn in ITV1's crime drama Rebus in 2006, but just two short years later she was appearing in a variety of sketches on Channel 4's The Kevin Bishop Show, including a spoof of Keeley Hawes in Ashes To Ashes. This is one of the few clips we can show you, as most of the rest of them are either far too adult, far too UK-centric, or (whisper it) not very funny.
Rory Williams: Arthur Darvill
http://www.youtube.com/watch?v=yvjuJmHEPU0
OK this one may take some explaining. Generations of UK children have grown up watching the adventures of the little yellow puppet bear Sooty, and his squeaky dog friend Sweep. And as we all know, the three best ways to get your first break in TV are crime dramas, period dramas or children's television. So here's Arthur helping one of Sooty and Sweep's friends make a go of their restaurant business.
Note: don't put chocolate sauce on a pizza, it's gross.
River Song: Alex Kingston
This is an episode of the BBC school drama Grange Hill from 1980. If you skip ahead to around the 1:30 mark, and look for a girl in bunches, wearing a judo uniform and a yellow belt — the one who says "that's not fair miss, he's a blue belt!" — THAT'S Alex Kingston. She turns out to be a bit of a wrong 'un though, be warned.
So let's end on a positive note. We mentioned Billie Piper earlier, but have you ever see her first big TV performance, on an advert for Smash Hits magazine?
You have now.
Have you found a better old clip? Tell us here.
Read More