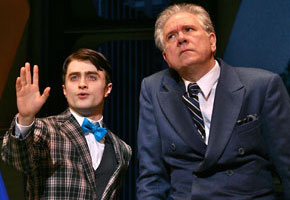 Daniel Radcliffe's fans are willing to put their money where their admiration is. And he happily encouraged them to show their love with greenbacks, but all for a good cause. The Harry Potter star and his castmates at How To Succeed in Business Without Really Trying raised the most money – $271,916 – of any Broadway show during this year's annual Broadway Cares/Equity Fights AIDS charity campaign, which ended last week.
After every evening and matinee performance during the 6-week charity drive, Radcliffe and costar John Larroquette would remain on stage at the Al Hirschfeld Theater in Manhattan, appealing to the audience for contributions.
At a performance I caught on April 19, when Radcliffe began his pitch, he reverted to his native English accent after speaking with an American one throughout the show. Larroquette did a broad double take. "You're British?" the Night Court star sputtered, pretending to be gobsmacked.
"I am," Radcliffe said, grinning as a full house of theatergoers laughed knowingly.
On that night, Radcliffe personally auctioned off the copy of the paperback book, How to Succeed in Business Without Really Trying, from which he had been reading and quoting during the show. He revealed to the audience that it was really a copy of Machiavelli's The Prince with a fake cover.
Bidding started at $50 for the volume and quickly rose from there. When Radcliffe threw in a backstage visit for the winning bidder with himself, Larroquette and other cast members, along with an autograph and a photo op, the crowd roared. The winning bid: $2,500.
At other performances, Radcliffe sometimes auctioned off the bow ties he wore during the show, with one going for as high as $5,000. Additional money was raised through the sale of autographed posters and donations.
In all, 52 Broadway and off-Broadway shows and touring companies raised a total of $3,706,085 this year. Wicked, the show on Broadway that came in No. 2 behind How To for the drive, raised $165,979. Subtract that number from the $271,916 that How To raised – the result is $105,937 – and it's possible to quantify what shall henceforth be known in fundraising circles as The Radcliffe Effect.
Read More
Filed Under: