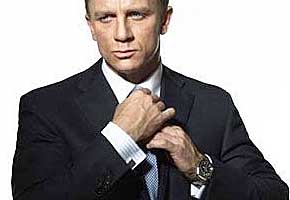 I can't lie, the possibility that Sir David Attenborough might be slowing down his activities as a natural historian is not a welcome one. In fact it's hugely upsetting to the generations who have been brought up on his whispered, awestruck descriptions of animals, plants and other natural phenomena. But if he is winding down, at least the BBC have brought in a replacement who can bring a similar level of presence to proceedings… James Bond.
That's right, Daniel Craig has signed up to narrate One Life, a film which brings together the best of Sir David's Life series of nature documentaries. He'll be describing the lives of 20 animals, from the tiny Darwin's Beetle to a humpbacked whale.
It's part of a new series of films the BBC are putting together for international (and cinema) release, including a new 3D Walking With Dinosaurs, and an African wildlife documentary, also in 3D.
Neil Nightingale, creative director for BBC Earth, told the Independent: ""For theatrical [release] we saw a unique story … that was very suitable for a cinema audience. That was the story that no matter how different the millions of species on earth are, including [humans], they all go through the same stages of life and have the same challenges and aspirations."
Daniel has not been slow in acknowledging the honour, saying he is "very proud" to take on Sir David's mantle in this way.
He said: "The BBC Natural History Unit have proven, year after year, that their documentary skills are second to none. For the film makers who spend their entire lives recording beautiful images of dwindling wildlife, I have only a sense of awe and a deep rooted respect."
Not that we've seen the last of Sir David himself, his latest series Frozen Planet hits UK TV screens later this year, and the BBC are planning a celebration for next year, to mark his 60th year at the corporation.
Would you go and see a nature documentary in a cinema? Tell us here.
Read More
Filed Under: