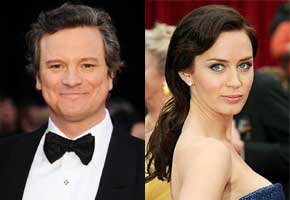 Colin Firth and Emily Blunt are set to assume new identities in a dark comedy directed by up-and-comer Dante Ariola.
The Hollywood Reporter reveals that the currently untitled film "details the story of man who fakes his own death in an attempt to reinvent himself and meets a woman who is also in the process of trying to escape her old life. They both break into empty houses to seal the identities of the absent owners." Becky Johnston (Seven Years in Tibet) penned the script and filming is slated to get underway this fall.
Since earning a Best Actor Oscar for his portrayal of King George VI in The King's Speech earlier this year, Firth's solid star status has kept him super busy with a slew of hot roles. He just started work on the Gambit reboot with Cameron Diaz, and also signed on for Stoker in March.
Blunt's plate has been plenty full too, as four of her films are currently in post-production, including next year's crime thriller Looper and the forthcoming Muppets movie with Ricky Gervais.
Read More
Filed Under: