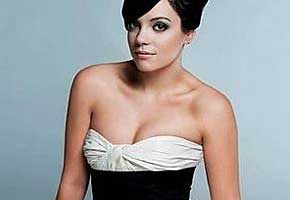 So, Cheryl Cole is still out of the US X Factor, this much we know. And after Simon Cowell's catty comments over the weekend — "She doesn't travel well. We've made a terrible mistake" being a particular favourite — it's looking incredibly unlikely that she'll appear in the UK version either.
And the dustcloud of gossip around this surprising (but not that surprising) story has been claiming all sorts of unexpected victims. Old feuds have reawoken, past allegiences have been restated. It's becoming quite the political hot potato (in a very mild and unimpressive way).
The provocative writer Julie Burchill (a kind of female, occasionally lesbian, non-shooting Ted Nugent with a typewriter) was asked by the Sun to offer Cheryl a message of support, which she did by listing all of her achievements to date. These included taking Lily Allen down a peg or two (again) because she had the nerve to trade insults with Cheryl in a tabloid bust-up a couple of years back.
Apparently those wounds still sting Julie, who wasn't really involved: "I adore the way she spat back at that overprivileged crybaby Lily Allen when the public school tool took a poke at her way back in the day"
Now Lily has taken to Twitter, her chosen means of riposte these days, and launched a similar broadside at Julie, saying: "Julie Birchill, you are an ignorant and bitter old troll, but I guess you know that already."
"The amateur psychiatrist in me says [she] sees a lot of her younger self in me, and she's a bit of a 'self-loather.'"
Meanwhile, lots of celebs are rushing to the tabloids to express their feelings at the situation. Our current favourites are the presenters Ant and Dec, who also come from Newcastle and share Cheryl's supposedly impenetrable Geordie accent (they also had a more successful stab at US TV fame with Wanna Bet? a few years back).
Dec told the Sun they're concerned that Simon's anti-Geordie policy will reach them, now he's back on Britain's Got Talent, which they co-host: "It would be foolish for us not to be worried. We're going to have to speak reeaally sloowwwly to make sure he can understand us."
Ant added: "Why aye, man!"
(That's Geordie for "well said" or "hear hear", just so you know.)
Are you taking sides on *cough* "Cole-gate"? Tell us here.
Read More
Filed Under: