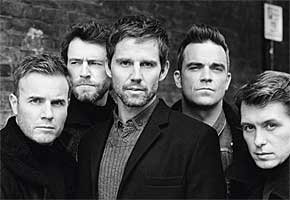 As I'm sure you all know, the Take That reunion is going great guns at the moment, with all five members of the UK's most successful boy band preparing for a colossal tour. But not everything in their newly harmonious garden is rosy.
Part of the deal in which Robbie Williams agreed to rejoin the band was that he would still get to perform some of his solo material on tour. And the way they've worked it out is that the concert will feature the original five-piece version of the band doing their old hits from the early '90s, and the four-piece who got back together without Robbie in the mid '00s, and Robbie on his own, and then the newly reformed five-piece with their latest album.
The trouble is, some of Robbie's solo material is autobiographical, and contains barbs aimed at his former bandmate, Gary Barlow. Most notably the Robbie song 'No Regrets' in which Rob aimed a potshot at Gary's occasional tendancy to podginess: "you're far too short to carry weight."
Now Robbie is reportedly insisting on performing the song, as a way of saying he's put all that behind him now, but he rest of the band aren't sure that the message will get across. It'd be akin to a reformed (and still alive) Beatles performing John Lennon's anti-McCartney rant 'How Do You Sleep.'
Here's the song, in case you're not familiar with it:
A source told the Mirror: "It's quite tense at the moment with the pre-tour nerves, but there are also concerns about the track's lyrics. Everybody knows there has been bad blood between the boys but Robbie is sure the fans will see past the song's face value and see a more poignant meaning behind it.
"To him, it shows how much they've overcome, and how much it means for them to be back together again. But the boys aren't all too sure."
Which does beg the question: how much have they really overcome, if this is still an issue?
Who's in the wrong here? Tell us.
Read More
Filed Under: