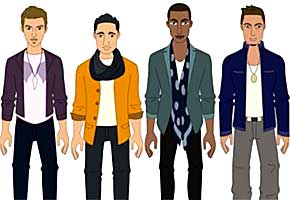 It seems there is far more to this Eurovision performance lark that just turning up on the night, doing as well as you can given the circumstances and crossing your fingers that people will vote for you. Certainly the UK's chosen representative band, Blue, are leaving nothing to chance.
They've been touring all over Europe (according to the Guardian), trying to drum up local support for their song "I Can" and generally raise a land army of new fans who will vote for them. You remember I mentioned they were famous at the beginning of the naughties, well a lot of that residual fame is still playing out across the continent, so it seems to be a strategy that's paying off.
They have also made a decent stab at appealing to the regulars at London's G-A-Y nightclub, appearing in a spoof royal wedding routine, complete with blushing male brides as backing dancers (the Daily Mail has pics). Oh and they've been made into cartoons so they can appear on KidsCo TV channel's programme Boo & Me.
Busy. Busy. Busy.
How they have found time to check out the competition is anyone's guess, but the band's strategist, Duncan James, appears to know all about the other contestants.
He told Metro: "France are going to be good and Estonia have a really great song. Norway have a great one as well but we're just going to go out there and do our best."
"We've apparently got the highest odds in the UK for years so that's an achievement in itself, so we're just going to go out there and put on a great performance and hopefully won't look too bad."
Er… surely you mean you won't SOUND too bad?
Admit it, this Eurovision thing is growing on you now, isn't it? Tell us here.
Read More
Filed Under: