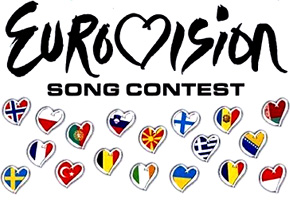 We probably should have mentioned this in more detail earlier on in our Eurovision coverage, but one recurrent criticism that the entire event suffers from is the question of voting bias. It's considered that some countries are giving their nearest political allies a boost in the voting in order to show solidarity and support, rather than because they necessarily have the best tunes.
Now, steps have been taken to counteract this problem, with greater emphasis being placed on a public vote instead of a panel of potentially partisan judges, but the trouble is, now it has become impossible for anyone to enter the competition, fail to win, and NOT claim that this is because of an international political stitch-up.
Take Blue, the UK's entry. Come the final on Saturday night, they came, they saw, they danced about a bit, and then they watched while Azerbaijan's Ell and Nikkiy won the contest with their song "Running Scared."
The Blue song "I Can" had to make do with a relatively measly No. 11 placing in the final tally.
Here's Ell and Nikkiy's winning performance, which caused an outbreak of dancing in the streets in their home country when the results were announced:
Naturally, had Blue won, it would've been on merit alone, but to have missed out by such a large margin, well that's got to be political, right?
The band's Simon Webbe told Yahoo: "It is often not really about the song but who your neighbours are. But we are proud of what we did."
Attaboy, noble in defeat. That's the British way.
Meanwhile, the twin terrors of Ireland's Jedward managed a slightly more respectable eighth place with "Lipstick," and they seem to have enjoyed the experience so much, they're hoping to have another go next year. Which does seem to be slightly more in the spirit of the event, truth be told.
Does representing your country extend to being sportsmanlike after you lose? Tell us here.
Read More
Filed Under: