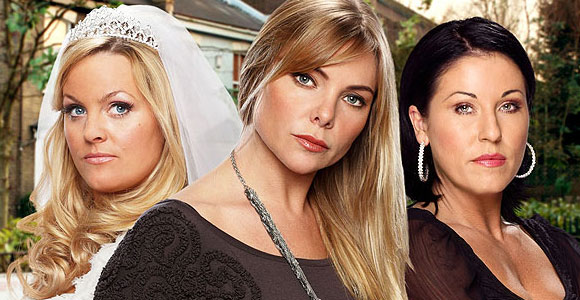 The stench of death hangs over the Daytime Emmys, whose nominations will be announced tomorrow morning (May 11). The ABC dramas All My Children and One Life To Live, recently canceled in favor of cheaper food and reality shows, will still vie for trophies. But the mood surrounding the awards will be anything but celebratory. In January 2012, there will be four U.S. soaps competing for aging, dwindling audiences, down from 10 shows at the turn of the century.
In contrast, the British Soap Awards will be handed out on Saturday (May 14), with much joy, fanfare, and glamour. Yes, the industry across the pond has seen its share of axed soaps in the past decade, from Brookside to Grange Hill, but the country's big three evening melodramas, BBC1's EastEnders and ITV1's Coronation Street and Emmerdale, regularly rank among the most-watched shows in all of British television. (The Brits had the good sense to schedule their "stories" primarily in early primetime — when more people are home to watch live.) UK soaps remain vital, as central to British pop culture as American Idol is to our own.
Born in radio and transferred to TV, the soap opera could be the most American of entertainment genres — so why have the Brits seemingly perfected it? We asked John Yorke, BBC's Controller of Continuing Drama and the man behind shows like EastEnders, this very question. His shows are funded through Britain's license fee, which is an annual payment that UK households must make for owning any television-receiving equipment, giving his programs an advantage over ad-supported U.S. content. But, as he tells us, there is still tremendous pressure to deliver a quality product while keeping costs low. Can U.S. soap execs learn a thing or two about how he does business?
Even though the shows never made much of an impact in the UK, have the cancellations of All My Children and One Life to Live been on your radar? What are your thoughts on their demise?
Yes, it made a bit of a splash in the newspapers over here. I get terribly sad when any drama gets canned, and my thoughts go out to viewers cast and crew. There's a creeping inevitability about these things now. Unless shows can attract a mass audience reality TV will kill them. We've seen something very similar here in the UK where Dream Team, Brookside, Family Affairs, and Grange Hill have all [been canceled].
Many are now saying that the American daytime soap is dead. But UK soaps seem extremely vital and relevant. How do you account for this? Is it simply a matter of smarter scheduling, as most UK soaps air during peak viewing hours?
Our primetime soaps are much more resilient. Partly there are more people available to watch, but also they reach a wider demographic, so at their best they still offer something for everybody. All TV audiences have dropped here from a high of maybe 15 years ago, and some like HeartBeat and The Bill have been lost, but the survivors work well because they're properly funded and — most of the time — are actually pretty good.
Why has EastEnders remained so popular year-after-year, even with changing tastes? How have you been able to grab audiences who now have more viewing options than ever?
None of the soaps are as popular as they were. EastEnders once regularly got 18 million viewers, though that was in a three-channel world. [EastEnders now typically draws around 9 million viewers – Ed.] Having said that, most weeks it's the most popular show in Britain. Why? Again, mostly it's because it's good. I've always believed that viewers turn off for one fundamental reason: they get bored. There's a very healthy soap competition in the UK, and I think that helps in us substantially raising our game. In addition the format allows you great scope for evolution, so you can reflect social change without damaging the brand.
U.S. soaps have been viewed as lagging behind the times in in terms of socially representing modern America. With Britain more diverse than ever, do you have a mission for your dramas to reflect the changing face of the nation?
I strongly believe that diversity is a gift to drama and we champion it endlessly. Every new ethnic, religious, or sexual group allows you the possibility of telling old stories in a new way, and viewers do seem to actually love characters irrespective of their backgrounds. The biggest story on British TV last year was a Muslim wedding [on EastEnders], in which the groom was unmasked as gay. I'm very proud of that, but it also demonstrates that we shouldn't be scared of going into new worlds and telling stories in those worlds confidently!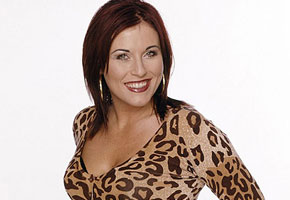 In the U.S., soaps have often carried a stigma as low-quality entertainment, amongst both the mainstream media and TV execs. How different is the perception in the UK? Some actors have complained that soaps take up primetime hours that could be better used supporting "higher quality" U.S.-style TV dramas.
Well there's still a class system, but it's not quite as profound. Large chunks of our industry were trained on these shows. [King's Speech director] Tom Hooper, this year's Oscar winner, learned his craft on EastEnders.
However, you still have to break through a certain belief that these program are inferior. For 10 years Jessie Wallace has given a breathtaking portrayal of Kat Slater on EastEnders, but it took a cameo in a single film [The Road to Coronation Street] to get her the BAFTA nomination she deserved. But that's OK. The smart people in telly know to recruit talent from here, and it's also worth remembering that the people who hanker after "higher quality" U.S. dramas are a small minority who have an over-amplified voice. The reality is that our shows are most often the most popular in the country, and millions of people who pay their license fee, who may not have such a loud voice, love them passionately.
What creative impact does being publicly funded by the license fee have on your shows?
Well once upon a time it probably allowed us a certain leeway to re-shoot if things got wrong or buy our way out of trouble. But I've been in the industry for 20 years, in the commercial world too — and I've never seen a more disciplined system of cost control than we have here. There's no waste: it's all on screen, and we recognize that part of our job is to be the cheapest. That doesn't mean the worst.
In the U.S., writers have catered to the 18-49 demographic, the group most sought after by advertisers. UK soaps have been praised for multi-generational storylines. Even without the imperative of ad revenue, how much pressure is there to focus on youth in your shows?
Our remit is to appeal to a wide demographic so as many license fee payers as possible so it's not imperative. However, our shows do have the largest young audience of any soap, and it's something we're very keen to hold onto as they are our future audience.
How involved are you in the creative process of EastEnders and the other continuing dramas? There must be a balance of not interfering too much but also acting quickly when the shows hit creative trouble.
Good question! My basic job is recruiting the talent, making sure they're equipped to do the job, and letting them get on with it. I keep a close eye on the shows, but try very hard to refrain from comment — unless it's constructive. Though if you asked our staff they might not always agree.
Where do you see British soaps in 10 years?
All of British TV has had 10 years of audience decline as multi-channel has taken hold. In the last two years that's stabilized, and I strongly believe that if we continue to invest in them, they will still absolutely be at the center of primetime television and British life.
Read More
Filed Under: