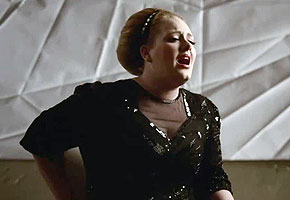 It's been one of 2011's great pleasures to watch Adele out-Gaga Gaga, dominating the U.S. airwaves, baring her teeth but not her midriff. However, her rage-filled hit "Rolling in the Deep" seemed destined to join Gnarls Barkley's "Crazy" on the list of great songs to stall out at No. 2 on the Billboard singles chart. Katy Perry's "E.T." had set up residence at No. 1 for five of the past six weeks, and her eviction notice didn't appear forthcoming.
But on the heels of a media blitz, Adele has pulled off a Hot 100 coup this week. She becomes the first British female artist since Leona Lewis in 2008 to achieve a U.S. No. 1 single. Brava, dahling.
Between The Voice, Glee, and Dancing with the Stars, "Rolling in the Deep" has been avoidable in the past few weeks. Why has this song connected so strongly with the American public? Certainly, we've ignored other excellent tunes from across the Atlantic. Have we been starved that long for a rip-roaring, gut-bucket Bonnie Raitt-type stomp?
Here's Adele's performance of "Rolling in the Deep" on last night's Dancing results show:
http://www.youtube.com/watch?v=d7VzDCJhiM4&feature=player_embedded
Read More
Filed Under: