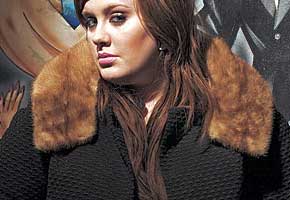 When it comes to physical attraction, we all have different preferences as to what makes a hot mama or a super studmuffin. Some people like eyes, some like teeth, and the pop singer Adele likes a good pair of thighs. So much so, that she's doesn't appear to be too fussy about who's got 'em.
And it's this little fetish which has lead her to proclaim to the Sun that she'd be only too happy to indulge whatever bedroom fantasy her fellow pop singer Rihanna may or may not have about her, just as long as she could get close to those meaty pins.
She said: "If Rihanna wanted me, I'd do it with her. She's hot."
Apparently this all goes back to Rihanna's appearance on last year's X Factor, in which a certain aspect of her physiognomy so impressed our soulful singer and her friends, they seriously (note: not seriously) discussed swapping teams.
Adele explained the appeal: "She had pinstripe flares on. She whipped them off and there were her stunning thighs. I said to all my girlfriends, 'Are you feeling a bit gay right now?'."
And here is that performance (although the flares turn out to be a robe):
Thankfully (or not, depending on your point of view), the effect was only temporary, and before anyone could even say the words "restraining" and "order," Adele returned to her default position: "I love boys, love men. I am fascinated by them even though at times they let you down and hurt me. But right now I am more single than ever. It's so depressing."
Might I suggest you try your local rowing club? Good legs, rowers…
Would anyone (with good thighs) like us to put a word in with Adele? Tell us here.
Read More
Filed Under: