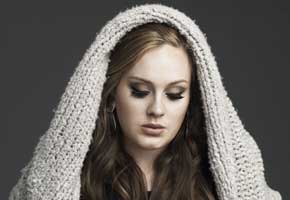 Ladies, if your heart has ever been broken, and you've wanted to extract some humiliating and terrible revenge on the feckless dope that did it to you, take heart from this story. This is a story of love, and loss, and then huge financial gain, and then a ridiculous (but secretly quite grafitying) request, and a lot of derisive laughter.
The story so far: teenage singer-songwriter Adele is going out with a boy, and they split up. Devastated, she ploughs her pain into an album's worth of songs, which is called "19" and goes on to sell bucketloads. So much so that it is currently at No.3 in the UK album charts, some three years after it first came out.
Then the boy, having read all the interviews Adele gave, in which she forthrightly explains that this breakup is the inspiration for her saddest songs, decides that he should be entitled to a cut of the profits. After all, if he hadn't broken her heart, she'd have nothing to sing about, right?
She explained to the Sun: "For about a week he was calling and was deadly serious about it. Finally, I said, 'Well, you made my life hell, so I lived it and now I deserve it.'"
"He really thought he'd had some input into the creative process by being a p****. I'll give him this credit – he made me an adult and put me on the road that I'm travelling."
Can't wait to see what happens when the guy who inspired the lyrics to the follow up — "21" — finds out about all this.
Does he deserve some credit? Tell us here.
Read More
Filed Under: