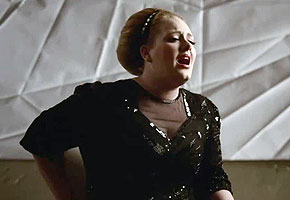 We've all seen people who are famous and mistakenly thought they are people we know in real life, right? It's an incredibly easy thing to do, especially if they're the kind of actor or performer whose name you can't quite remember, but whose face rings a massive bell.
And it must be ten times worse if you're a bit famous yourself. Oh sure, you're in the club, so there's a chance they might know you too, but have you met before? Did you get formally introduced? And what is their name anyway? No, their REAL name?
See? It's an etiquette nightmare. A point proved only too well when our very own Adele happened to bump into Jennifer Aniston while trying to find a handy toilet in a New York venue.
Having located the ladies, Adele made for the door, only to be stopped by a security guard representing Ms. Aniston. But as soon as Jen saw who it was, she waved her in, and the two ladies took to their adjoining cubicles.
She told Graham Norton (a smidge too graphically): "We went into the cubicles and sat down and I could hear her, 'pssssssst.' And through the cubicle she said, 'So how are you, honey?'"
"And I just called her Rachel! I said, 'I'm fine thank you, Rachel.'"
Ah well, I'm sure she'd be more forgiving of that than of you describing the sound she makes when she pees. Just a thought.
Do you have an embarrassing celebrity encounter? Tell us here.
Read More
Filed Under: