Here at Anglophenia, it's no secret that we adore our Brits, especially those who've lucked out in love. But when Colin Firth recently gushed about how his beautiful wife Livia keeps him in line at home, it got us thinking about some of our favorite British celebrity couples (The Firths included). Here's our Top 5: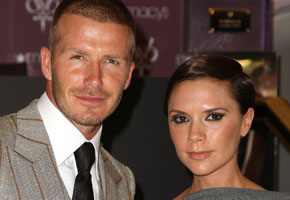 David & Victoria Beckham: Posh and Becks have weathered through endless amounts of gossip since exchanging vows in 1999. Say what you want… they're still gorgeous and they're still as tight as ever. The decorated footballer and his popstar-turned-fashion maven wife keep very busy with their various business ventures, but through it all, they make sure their family unit with sons Brooklyn, Romeo and Cruz is unshakable. And when baby girl Beckham arrives in July, proud papa David will surely be changing dirty nappies like a champ.
Ewan McGregor & Eve Mavrakis: The sexy Scot met his French production designer wife when he guested on the British drama Kavanagh QC in 1994. The next year, they were married, and are now the parents of three daughters. What's the key to their lasting union? McGregor recently told The Daily Record that while he still "feels like a beginner" at marriage, that "loving each other is the most important part of it, whether you share a bathroom or not." Words to live by indeed.
Sophie Dahl & Jamie Cullum: The former model/writer and her jazz-pop beau tied the knot in January 2010 after a three-year courtship. What we adore about these two is that they tend to keep things on the down low, which is quite refreshing considering how Hollywood tends to roll. Their pre-married life was pretty hush hush, as were the details surrounding the birth of their daughter Lyra in March. And some might find them an odd pair (Dahl is about a head taller than Cullum), but that's what makes them even more charming.
Elton John & David Furnish: The Grammy-winning entertainer found true love with the Canadian filmmaker nearly 20 years ago upon meeting through mutual friends. Since marrying in a civil partnership in Britain in 2005, they continues to share in one another's many charitable efforts, most notably the Elton John AIDS Foundation. And last December, they added baby boy Zachary to their happy family. Elton and David seemingly have it all, don't they? What's their secret? Love notes! John told Parade in 2010: "Every Saturday for 16 years, we've sent each other a card, no matter where we are in the world, to say how much we love each other." Awwww!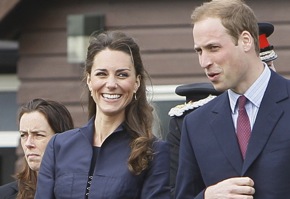 Prince William & Kate Middleton: This may be a pretty obvious choice, but we had to go there. As we all well know, the former St. Andrews University lovebirds finally walked down the aisle at Westminster Abbey in April. Millions of hearts were a flutter as the new Duke and Duchess of Cambridge exchange sweet glances and other pleasantries throughout the ceremony. With all the fairy-tale stuff aside, they do seem like a solid team who sincerely admire and respect each other. And their decision to give newlywed life a go without a team of servants goes to show how down-to-earth these two royals really are.
Do you have a favorite British celebrity couple? Tell us here.
Read More
Filed Under: