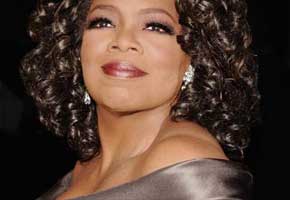 Inspired by the way Oprah Winfrey is handling the winding down and eventual end of her TV show (ie with all of the attendant pomp and ceremony that she deserves), here are five British goodbyes which left the nation reeling…
WARNING: Waterproof mascara, ladies.
1: Terry Wogan Leaves Radio 2 (2010)
Our Terry is probably the closest thing the UK has to an Oprah, someone who is widely loved, who people trust, someone with whom we'd all like to go for a drink, and someone we secretly believe that we are already friends with. His Radio 2 show lasted a magnificent 27 years, and so when he left last year, it was a cause for national mourning.
He's back doing other things now, of course. Broadcasters never really stop unless they're told to by their audience.
2: Parkinson: The Final Conversation (2007)
Right at the other end of the emotional scale is the final show of Britain's heavyweight chat show king, Michael Parkinson. In his time, he has interviewed everyone, including such greats as Muhammad Ali, Fred Astaire, Jimmy Stewart, and single-handedly launched the career of Billy Connolly. A flintier man than Terry Wogan, Parky was also a target for performers to bring his journalistic rigor into a more slapstick realm. Google "Michael Parkinson, Rod Hull, Emu" if you don't believe me. So it's only right and fitting that for his very last show, comedian Peter Kay upstages him entirely.
No chance for a tearful farewell here.
3: Doctor Who – End Of Time (2009)
Oh well now, this was a tear-jerker of epic proportions. Somehow, despite being very near death, the Doctor had just enough juice left to go and visit everyone he had befriended during his 10th iteration as a Time Lord — just to say a quick farewell, you understand, no long conversations — for TEN MINUTES. And then, with a lump-throated "I don't want to go", David Tennant left the show, to be replaced by Matt Smith, and Whovians wept like babes.
http://www.youtube.com/watch?v=XQrd44v7Q6w
Then the TARDIS exploded. Could anyone else tell it was Russell T Davies's farewell to the show too?
4: Inspector Morse – The Remorseful Day (2000)
Not that we're suggesting there's any connection between the end of Oprah and a much-loved TV character dying, but this was a particularly moving way for a series to finish. The last moments of the grumpy Oxford detective, as played by John Thaw, and the restrained tribute paid by his sidekick Lewis, rank among the most emotional in UK TV history. There is just something about the death of a crabby but loveable man, the unspoken emotions that will never be expressed… well it's heartbreaking.
http://www.youtube.com/watch?v=RmVx6EJXbqo
5: Blackadder Goes Forth – Goodbye-ee (1989)
Naturally we've saved the best until last. If you think you know of a better example of a much-loved TV show's final moment taking it to an entirely new level of brilliance, you are wrong. This is the Blackadder team taking all of the fun and comedy antics of the fourth series, which is set against the backdrop of the First World War, and letting them drop away: revealing the sad truth that everyone watching had been reluctant to face from the very first episode, that these are men who are unlikely to make it home in one piece.
The slowed-down, edited-with-poppies ending was actually an afterthought. Originally a scene was filmed in which everyone ran across No Man's Land and died in a very obvious, graphic way. It looked rubbish, and so an edit was constructed which… well you've seen it now, haven't you? Sobbingly powerful television.
What's your favorite TV finale? Tell us here.
Read More
Filed Under: