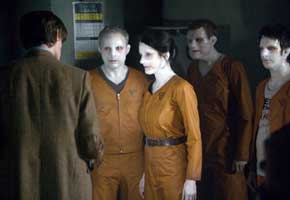 If you've been watching "The Rebel Flesh" and enjoying a break from the big story arc stuff of the early episodes in this series, well, we can tell you it's quite deliberate, AND a throwback to Doctor Who's black and white beginnings.
This story's writer, Matthew Graham (who also wrote Life On Mars and Ashes to Ashes) explained that he deliberately structured the story simply, as if it was for the second Doctor, Patrick Troughton:
"There didn't seem to be any point in telling the story backwards, or throwing structural curveballs at the audience. It's a big enough challenge for writers to just tell a good solid story in real time. Everything is in right the right order. I'm drawing more Troughtonesque references. I'm tapping into my inner Patrick."
And he explained to SFX that the inspiration for the story came from Steven Moffat telling him what not to do, as is sometimes the way of things with creative thought: "he said… 'I think it should be something to do with avatars that rebel.' That was it. My first reaction was, 'Avatar, well, isn't it going to be a bit like we're just ripping off the big movie of the moment?' And he said, 'Well, that's your problem. Go away and don't do that.'"
Mission accomplished!
• I know, I know… waiting a whole other week to see "The Almost People" is bit difficult at the moment, but sate your Doctor Who hunger with the episode's trailer below. Den of Geek also has some exciting snaps.
• Oh, and speaking of the show's illustrious past, Radio Times magazine has put up a gallery of all of their Doctor Who covers, dating back to 1964. So now YOU can travel back in time (sort of) and imagine what it would've been like to see these things on your formica coffee table.
• Is Rory alive or what? Well, he's park of the South Park crew thanks to artist Zerobriant via Red Bubble.
• British dance-pop siren Sophie Ellis-Bextor is looking to add Doctor Who to her résumé. And like the many guest stars that have come before her, she wants to get evil. "I would love to play an alien on 'Doctor Who.' No prosthetics required!" she recently shared. (The List)
• Some of our male staff can't quite see what the problem is, but apparently Matt Smith has committed the cardinal sin of dressing in an unfashionable way when he is not at work. And worse, doing so while being the boyfriend of fashionista Daisy Lowe. The fool! (Now)
• The fashion disasters don't stop there either. It seems the makers of Harris Tweed are appalled that the Doctor appears to have swapped his genuine tweed jacket, as worn in Matt Smith's entire first series, for one which is (whisper it) part acrylic. It's an outrage! (STV)
• Still, there's no need for Matt's hands to be unfashionable anymore. I know spring is upon us, but should you find yourself somewhere chilly and in need of some toasty-warm gloves, reach for this TARDIS-themed pair.
• If there are any Whovians out there without a trusty sonic screwdriver, you'll certainly want your very own once catching this clip. The eleventh Doctor gives you … the Top 11 Screwdriver Scenes!
• The Daleks are coming! The Daleks are coming… to the North Swindon Library next month. But these are of the friendly kind, as the the Charity Daleks group will be receiving donations for Macmillan Cancer Support and Marie Curie Cancer Care in memory of Elisabeth Sladen, who passed away from cancer in April. (Swindon Advertiser)
Read More
Filed Under: