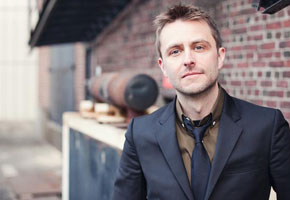 BBC America has just announced that Chris Hardwick — comedian, geek extraordinaire, and major Doctor Who fan — will host the channel's "Ministry of Laughs" comedy block, which premieres June 18. He's also signed a deal with BBC America to co-produce and host a panel talk show based on his popular Nerdist blog podcast. Below is the press release:
CHRIS HARDWICK SIGNS DEAL WITH BBC AMERICA TO HOST MINISTRY OF LAUGHS AND PILOT BASED ON HIS NERDIST PODCAST
New York – May 23, 2011 – BBC AMERICA has signed comedian, writer and web pundit Chris Hardwick to host the channel's new Saturday night comedy block, Ministry of Laughs, and has committed to a pilot/special based on Hardwick's hit Nerdist podcast. The pilot will be a BBC AMERICA original program.
As previously announced, the Ministry of Laughs, BBC AMERICA's new Saturday night comedy showcase, is set to premiere a raft of award-winning shows, kicking off with some of the most recent irreverent and inventive comedies from the UK. Hardwick will front the Ministry of Laughs when it launches Saturday, June 18, 10:00p.m. ET/PT – featuring the latest season of the BAFTA-winning comedy The Inbetweeners, the new project from Little Britain creators and stars Matt Lucas and David Walliams, Come Fly With Me, and the UK's biggest talk show, The Graham Norton Show.
Hardwick's production entity, Nerdist Industries, and Comcast Entertainment Studios will produce the Ministry of Laughs host pieces and the pilot for the panel talk show hosted by Hardwick and based on his Nerdist podcast. The show will cover all things relative to geek culture from LA to London and feature celebrity guests with their own nerd obsessions. Hardwick will executive produce alongside K.P. Anderson and Jay James for Comcast Entertainment Studios.
The Nerdist podcast, recently named one of the best comedy podcasts by Rolling Stone, is a top 10 comedy podcast on iTunes and has featured guests from Andy Samberg to Jon Hamm to Zach Galifianakis to the cast and crew of Doctor Who.
Perry Simon, General Manager, Channels, BBC Worldwide America says: "Chris Hardwick's unique and irreverent sense of humor perfectly complements BBC AMERICA's British comedy sensibilities.  We have fallen in love with his innovative work on the Nerdist, his enormously popular podcast, his Twitter, his stand-up, and his inventive TV activities, not to mention his devotion to Doctor Who and his unapologetic anglophile leanings. Chris is the ideal host for our Ministry of Laughs comedy block and a natural choice for our first original comedy production."
One of Time magazine's "140 most influential people on Twitter," Chris Hardwick is a professional stand-up comedian and self-proclaimed nerd who currently hosts Web Soup, writes for WIRED magazine, contributes to Attack of the Show, makes regular appearances on Chelsea Lately, The Soup, and The Late Late Show with Craig Ferguson and more. Hardwick's Nerdist Empire extends beyond the podcast and @nerdist on Twitter to include the popular blog Nerdist.com and his upcoming book, The Nerdist Way, which will be published on November 1 by The Penguin Group.
Showcasing a new generation of talented actors, writers and creators in British comedy, Ministry of Laughs will also feature new series Friday Night Dinner (August 6) created and written by Robert Popper (South Park, Peep Show, Look Around You) and Katy Brand's Big Ass Show (January 7) and new U.S. premiere seasons of returning award-winning hits That Mitchell & Webb Look (October 1), The Thick of It (November 12) and Peep Show (March 31).
Read More
Filed Under: