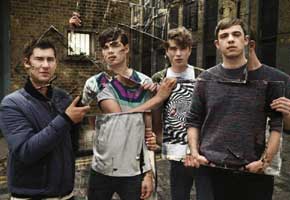 The disco ball inside my head is still spinning to Everything Everything's sparkling indie pop hit, "My Kz, Ur Bf." So you can imagine how my happy heart sunk just a wee bit upon hearing that the Manchester-bred foursome missed out at the 56th annual Ivor Novello Awards today (May 19).
Ok ok, I'll put my heartache aside (for now) to give Plan B a well-deserved slap on the back for commanding the court at London's Grosvenor House. The chart-topping British rapper/singer (born Benjamin Drew) grabbed three gongs for his 2010 concept album, The Defamation of Strickland Banks.
Between winning for Best Album, (where he bested Everything Everything) and Most Performed Song for "She Said, Sir Elton John presented him Songwriter of the Year crown. "I've played it so many times, I've bought countless copies, I've given it to friends, I've worn it out," John gushed. What an outstanding moment, not to mention evening, for the 27-year-old MC.
To commemorate his big night, Mr. Drew issued a revamped version of "Hard Times" — now featuring accompanying vocals by John and Paloma Faith — via iTunes and other UK digital retailers earlier today. All proceeds made from the track will be donated to charities assisting Japanese tsunami and Pakistani flood victims.
Villagers songster Conor J. O'Brien also bested Anglophenia's dear Everything Everything to earn the Best Song trophy for the chamber-pop splendor that is "Becoming a Jackal." I am absolutely madly in love with this song, which echoes Simon & Garfunkel-like earnestness, so cheers to this Irish up-and-comer.
And speaking of up-and-comers… at least on this side of the pond, two-time Brit Award champ Tinie Tempah walked away with the Best Contemporary Song prize for "Pass Out." The bespectacled Tempah was also humbled when handing Dizzee Rascal the Inspiration Award, and went on to hail the 2003 Mercury Prize winner as "the reason I'm making music." Pure class right there.
Additionally, Muse (International Achievement), Steve Winwood (Outstanding Song Collection), and English composer Michael Nyman (Classical Music Prize) were each victorious at this year's esteemed ceremony.
Read More
Filed Under: