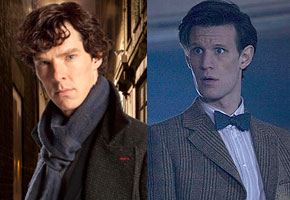 When the BAFTA TV awards — the British equivalent to the Emmys — air on Sunday (May 22) in the UK, there's one horse race everyone will be watching. Will Doctor Who's Matt Smith or Sherlock's Benedict Cumberbatch win the Leading Actor award?
Just this week, Britain's Radio Times magazine splashed the pair on their cover, hyping their rivalry as the "Battle of the BAFTAs."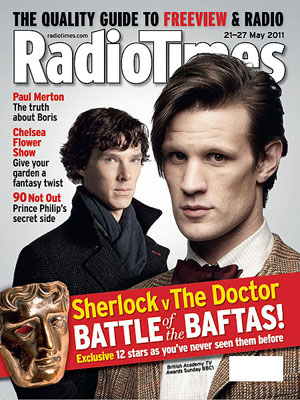 It's easy to forget there are two other nominees in their category: Daniel Rigby, who played comedian Eric Morecambe in the BBC's film Eric and Ernie, and Jim Broadbent, who might just be the favorite to win for his role in Channel 4's drama, Any Human Heart.
But Sherlock vs. The Doctor makes for great fodder. Both are iconic heroes re-invigorated by the punctilious pen of Steven Moffat. Both have passionate cult followings on both sides of the pond. And, yes, both have cheekbones that could slice potatoes.
We'll be live-tweeting the BAFTA TV awards on Sunday, starting at around 3 pm ET. And we'll give you the scoop on the evening's winners. But for now, tell us, who do you feel more deserves a BAFTA win, Matt or Benedict?
Read More
Filed Under: