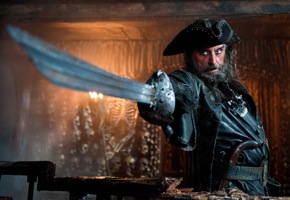 Hollywood is addicted to the British.
While much has been written of late about all the comic book superhero roles being nabbed by English or Commonwealth-born actors, it's the casting of supporting roles in blockbuster film series that is really keeping talented Brits employed.
Consider Pirates of the Caribbean: On Stranger Tides, the fourth and latest in the money-Hoovering franchise — the first three films grossed $2.5 billion worldwide.
Even though Brits Orlando Bloom and Keira Knightley have abandoned Yank Johnny Depp's Captain Jack Sparrow this time around, it's a bevy of English supporting players who keep this leaky vessel from sinking entirely.
First and foremost among this valiant crew is Richard Griffiths, a veteran of the Harry Potter films, who steals Stranger Tides with his brief bit as an oleaginous King George. Additionally, Ian McShane glowers and growls as Blackbeard, a fearsome and evil pirate captain; Judi Dench has a blink-and-you-miss-it cameo that gets one of the movie's biggest laughs; and Keith Richards pops up for a minute or two as Capt. Jack's grizzled father.
Watching them class up this movie, which is one pointless sword fight and explosion after another, you can't help but consider how dependent so many film franchises are on British stars to keep their foundations from crumbling.
The most obvious example of this phenomenon would be the Harry Potter flicks, which serve as a virtual Who's Who of England's current acting elite.
Estimable names who've turned up in at least one, and often more, of the six Potter films to date include Dame Maggie Smith, Sir Michael Gambon (who took over the Dumbledore role when Richard Harris died), Alan Rickman, Julie Walters, Helena Bonham Carter, Ralph Fiennes, Timothy Spall, Robbie Coltrane, Rhys Ifans, David Thewlis, Miranda Richardson, and many, many more.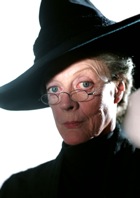 The Potter films are at least set, and shot, in England, providing a natural excuse for padding scenes with Brits. But handfuls of accomplished English actors also populate blockbusters with stories taking place in the U.S. or even Middle Earth.
Where, for example, would the more recent Batman films be without Sir Michael Caine's loyal butler Alfred? It's a role whose smartly shined shoes he capably filled beginning in the series' 2005 reboot, Batman Begins. British character actor Michael Gough had previously portrayed Alfred in the four Batman films from 1989 through 1997.
The Lord of the Rings trilogy made an international star of Sir Ian McKellen, who played the wise wizard Gandalf. Fellow countrymen joining him in Middle Earth included Orlando Bloom (complete with elf ears), Sean Bean, John Rhys-Davies, Sir Ian Holm and others.
Another fantasy film series, though set partly in England, that has relied heavily on British actors is the Narnia trilogy. James McAvoy and Tilda Swinton have both been featured, as well as Irish-born Liam Neeson, who provides the voice for Aslan, the majestic and symbolic lion.
Hands down, the longest-running and most British-dominated movie franchise would have to be James Bond. While an Aussie (George Lazenby) and an Irishman (Pierce Brosnan) have shaken martinis as England's ultra-spy, the four other Bonds have all been Brits (Scottish Sir Sean Connery, Sir Roger Moore, Timothy Dalton and, currently, Daniel Craig).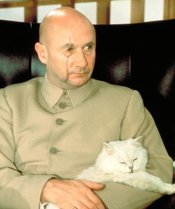 During the series' nearly 50-year run, British actors who've tried, while playing villains, to kill 007 have include Donald Pleasence, Jonathan Pryce, Sir Christopher Lee, Julian Glover, Toby Stephens, Sean Bean and Robert Carlyle.
Rosamund Pike, Jane Seymour and Gemma Arterton, not to mention Judi Dench as M, Bond's boss, have filled the ranks of the shapely "Bond girls".
Next time you can't sleep, instead of counting sheep, trying counting Brits in Harry Potter and other film franchises. The number is so large, you'll be in dreamland long before you reach the fourth Potter movie.
——————–
Who's your favorite British actor in a continuing movie series?
——————–
Harry Potter and the Deathly Hallows Part 1 trailer:
Lord of the Rings "super" trailer:
Daniel Craig in Casino Royale trailer:
Read More
Filed Under: