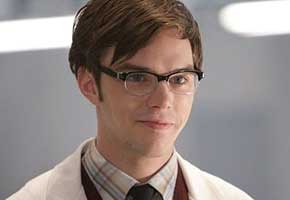 The countdown to this summer's X-Men: First Class is on, my superhero-lovin' pals. With only 16 more days to go, cheers to Yahoo! Movies for sharing a new snippet showcasing the brilliant Nicholas Hoult.
Below, we get to see the 21-year-old former Skins star as the dreamboat doctor Hank McCoy, who is a little shy in presenting his own gifted mutant skills. Xavier (James McAvoy), The Man in Black (Oliver Platt), Magneto (Michael Fassbender), Moira MacTaggert (Rose Byrne), and especially Mystique (Jennifer Lawrence), do seem quite impressed.
As loyal X-Men die-hards know, McCoy eventually morphs into the shocking blue creature best known as Beast. Of his character's spectacular transformation, Hoult explained to IGN that this new Beast will be "very different to Kelsey Grammar's Beast."
"People are quite intimidated by it, and it's great to have that with the contradiction of the character with somebody who's not that comfortable with himself," he said.
And I think we'll leave it at that, as some of Hoult's interview contains some slight spoiler details. Click on at your own risk.
Read More
Filed Under: