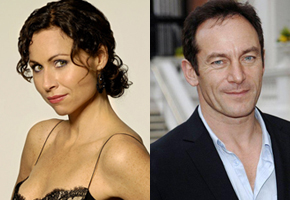 Jason Isaacs and Ioan Gruffudd made the cut. As did Robert Carlyle and Shelley Conn. But shows from Minnie Driver and Robin Hood actress Lucy Griffiths were not included when the broadcast networks announced their 2011-12 TV schedules at upfronts this week. And although NBC's remake of Prime Suspect is moving forward, it will premiere without British star Toby Stephens.
After a promising slate of pilots, British talent looked poised to claim ownership of the upcoming TV season. But sadly, many of your favorite UK stars were sidelined this time. Here's your guide to this year's winners and losers of pilot season:
Minnie Driver in Hail Mary (CBS)
NOT PICKED UP… BUT STILL ALIVE?: CBS rejected Driver's detective show about an Atlanta single mom who solves crime. But apparently producers at Warner Bros. hold out hope for the series and are shopping it around. With Kyra Sedgwick's well-rated series The Closer entering its final season, maybe TNT would be a good home for Hail Mary?
Lucy Griffiths in Awakening and Ben Aldridge in Heavenly (CW)
NOT PICKED UP: Awakening, a drama about zombie sisters, and Heavenly, a younger, hipper version of Touched By an Angel, are both DOA.
Natalie Dormer in Poe (ABC)
NOT PICKED UP: The period crime drama Poe initially looked like one of this season's sure things, but it did not make ABC's final schedule. But you need not stray too far from BBC America to get your Dormer fix: The Tudors star will appear in the network's new supernatural series, The Fades.
Jamie Bamber and James Callis in 17th Precinct (NBC)
NOT PICKED UP: In a season that has focused on female-skewing titles, the testosterone-heavy 17th Precinct was a casualty, in spite of its extraordinary pedigree (created by Battlestar Galactica's Ron Moore, starring Stockard Channing). This one has us bummed. Not only are we denied a Bamber/Callis Battlestar reunion, but, as a gritty cop drama set in a world of magic, 17th Precinct's premise was truly innovative. How many Mad Men knockoffs — we're talking to you, Pan Am and The Playboy Club — does one need?
Read our interview with Jamie Bamber on 17th Precinct
Jason Isaacs in Awake (NBC)
PICKED UP: Formerly titled R.E.M., this sci-fi thriller's close resemblance to the mega-hit Inception probably helped it avoid the dustbin. Isaacs, a talented actor with an appealing masculinity, has finally nailed a network series.
Toby Stephens in Prime Suspect (NBC)
SHOW PICKED UP BUT ROLE TO BE RECAST: For fans of the Helen Mirren original, a glimpse of Maggie Smith's son was the only reason to watch NBC's remake starring Maria Bello. Alas, Stephens has been dumped from the cast, even as promos featuring him have been posted on NBC's website.
Ioan Gruffudd in Ringer (CBS)
NOT PICKED UP BY CBS…BUT SCOOPED BY CW: CBS passed this Sarah Michelle Gellar identity-swap thriller over to their younger-skewing sister network, The CW. Gellar plays a woman on the run from the mob who hides by assuming the life of her rich twin sister. Gruffudd plays the husband of the rich twin sister.
Robert Carlyle in Once Upon a Time
PICKED UP: The worlds of fairy tales and reality collide in the new ABC fantasy drama, in which the Trainspotting thespian plays Rumplestiltskin.
Joe Anderson in The River (ABC)
PICKED UP: The horror series, set in the Amazon, scored a spot on ABC's midseason schedule, and its star, Twilight hunk Joe Anderson, is one of the year's few British series leads. Anderson plays Lincoln, a son who ventures into the South American jungle to locate his missing father. The series is being compared to Paranormal Activity.
Shelley Conn in Terra Nova (Fox)
PICKED UP: In possibly the biggest score by a British actress on American TV this year, Ms. Conn, formerly of BBC America's Mistresses, landed the lead role in the epic, Spielberg-produced sci-fi drama Terra Nova. Set in the future, when the Earth is on the verge of collapse, several humans time-travel to the period when dinosaurs ruled, hoping to starting anew. (If you watched Primeval or any Jurassic Park movie, you know this is a recipe for disaster.) Conn plays the mother of a family chosen to participate in the colonization. The trailer, released Monday, reveals an action drama that rivals any Hollywood blockbuster. The show must cost a pretty penny:
http://www.youtube.com/watch?v=X6aNEIZwPFc
Raza Jaffrey in Smash (NBC)
PICKED UP: Speaking of Mistresses, the adorable Raza Jaffrey played Hari, the cuckolded husband, on the BBC America series. This season, he'll play Dev on the NBC musical series Smash, which is being heavily hyped as the next Glee. Here's a clip of him with co-star Katharine McPhee:
Anthony Stewart Head in Free Agents (NBC)
PICKED UP: The remake-happy NBC is adapting another British workplace comedy, Free Agents, which is set in a talent agency. In the new version, Hank Azaria and Kathryn Hahn replace original stars Stephen Mangan and Sharon Horgan, but there is reason to be hopeful here. NBC has lured Anthony Stewart Head to reprise his role as the cocky boss.
Simon Cowell, Cheryl Cole, and Steve Jones on X Factor
PICKED UP: It's fitting that the most British series on TV this fall will be the transatlantic crossover X Factor. Cowell has resisted fully Americanizing his popular UK talent competition, bringing over his gorgeous Geordie sidekick Cheryl Cole as a judge. And he's hired the very dishy Welshman Steve Jones to co-host the show alongside Pussycat Doll Nicole Scherzinger.
What show are you most looking forward to?
Read More
Filed Under: