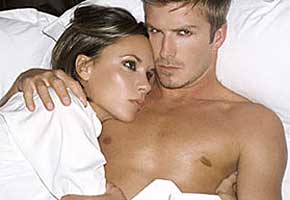 Well we already knew that the Beckhams had a soft spot for America, but not to the extent that they'd pick Independence Day as the birth date of their baby girl, AND consider a US-themed name for her too, surely?
And yet, that is what is happening. After abandoning plans to have the baby in London, Victoria has booked into a private hospital near their LA home, for a Caesarian section on July 4. And David is apparently very keen to call the baby Atlanta.
A source told the Sun: "It's going to be a massive family affair in America. While the date hasn't changed, it was decided a Los Angeles clinic would be best for the immediate family.
"Victoria and David love America, its culture and her people, who have welcomed them with open arms. The most important thing is the health of mother and baby and things can always change at the last minute."
"But if it's possible for the baby to be born on Independence Day, Vic and David would be thrilled."
Now, before anyone decides that this is some kind of attention-seeking celebrity nonsense, or worse, an insensitive prank on the nation that has been such a gracious host to the couple over the last few years, the important thing to remember is that the fourth of July is also Victoria and David's 12th wedding anniversary. So it's as much a red letter day for their family as it for is their adopted home.
Still, they bloody WOULD, eh?
A lovely gesture or a bit much? Tell us here.
Read More
Filed Under: