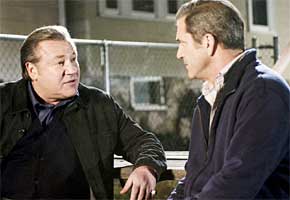 If you've seen Mel Gibson's performance as a puppeteer in The Beaver, and marvelled at the accuracy with which he nails the London accent for his furry friend, well, there's a reason for that. Far from being a dubbed on voice-over from Michael Caine (which was one of the rumors doing the rounds), he called for help from another of our greatest thespian exports, namely Ray Winstone.
Jodie Foster, who directed the film, explained to Contactmusic: "Mel did a movie with Ray (in 2010) and he kept calling him during filming and saying, 'How would I say this?' It was very specifically Ray Winstone and sort of Michael Caine on speed."
Which has left us pondering, if people from England are that easy to get hold of, and you can just ask them how to say stuff —,and Johnny Depp and Renee Zellweger can nail it — how can we still end up with hotch-potch botch-ups like this?
http://www.youtube.com/watch?v=o9c1QMZ6-0o
Listen to Jane Leeves playing Daphne Moon. That's a Manchester accent, born out of the industrial heartland of Northern England. That's where she's from. Then in comes Anthony LaPaglia, playing her brother, and he's doing a slightly less awful version of Dick Van Dyke's cockney number from Mary Poppins. It's either that or a stab at the generic British accent that your dad does to liven up a dull meal.
Trouble is, the London accent comes from, well, London, in the South East. Even if Anthony got it spot on — and he doesn't — it would raise questions about where the Moon family grew up. And if that doesn't feel like a big deal, imagine how strange it would be for Niles come in wearing a cowboy hat and spittin' baccy all over the front of that immaculate suit.
Someone should send Ray round, to have a word…
Are the British too bothered about accents? Tell us here.
Read More
Filed Under: