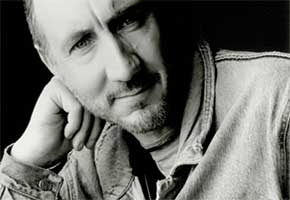 Pete Townshend, the guitar smashing, hotel wrecking, spirit questing, song writing engine room of the Who, has finally announced a release date for his autobiography. The book, which will be called Pete Townshend: Who He? has been sold to Harper Collins, and will be released in the fall of 2012.
The book has been nearly 20 years in the making, and has already been overshadowed by scandal. According to Pete, researching an early trauma in 2003 became the direct cause of his arrest for accessing child pornography.
At the time, this is how he explained his actions: "I have been writing my childhood autobiography for the past seven years. I believe I was sexually abused between the age of five and six and a half when in the care of my maternal grandmother who was mentally ill at the time. I cannot remember clearly what happened, but my creative work tends to throw up nasty shadows – particularly in 'Tommy.'"
"Some of the things I have seen on the net have informed my book which I hope will be published later this year, and which will make clear to the public that if I have any compulsions in this area, they are to face what is happening to young children in the world today and to try to deal openly with my anger and vengeance towards the mentally ill people who find paedophilic pornography attractive."
Speaking of his excitement at having secured Pete's memoirs, David Hirshey, executive editor at Harper Collins, gave this quote: "In the 1970s, Pete Townshend famously asked the musical question 'Who are you?' Now, in his autobiography, generations of fans will finally get the answer they've been waiting for."
If I can just correct you there, David, as Pete's the one doing the asking, the book is the answer to the question "who am I?" And if the song had said that, well it's doubtful they'd have used it for CSI.
Will you be reading it? Tell us here.
Read More
Filed Under: