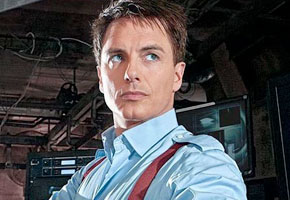 More casting news is rolling out about Torchwood: Miracle Day: the guest star lineup reads like a "Who's Who" of '80s and '90s pop culture. Where on Earth might you see Wayne Knight (a.k.a. Newman from Seinfeld), C. Thomas Howell (yes, Ponyboy from The Outsiders), Ernie Hudson (Glynn from Oz), Nana Visitor from Star Trek: Deep Space Nine, John De Lancie from Star Trek: The Next Generation, and veteran character actresses Mare Winningham and Frances Fisher sharing screen time? On the upcoming season of Torchwood, that's where.
As previously announced, Mekhi Phifer, Bill Pullman, and Alexa Havins have been cast as series regulars in the new season, with Arlene Tur and Lauren Ambrose signed on in extended guest roles. They will all join John Barrowman, Eve Myles, and Kai Owen when Torchwood: Miracle Day premieres on Starz July 8.
Here's a synopsis: "Torchwood: Miracle Day begins with a day when nobody dies. The result: a population boom, overnight. With all the extra people, resources are finite. It's said that in four month's time, the human race will cease to be viable. But this can't be a natural occurrence — someone's got to be behind it. It's a race against time as C.I.A. agent Rex Matheson (Phifer) investigates a global conspiracy.  The answers lie within an old, secret British institute. As Rex keeps asking 'What is Torchwood?,' he's drawn into a world of adventure, and a threat to change what it means to be human, forever."
Which newly announced guest star are you most excited to see on Torchwood?
Read More
Filed Under: