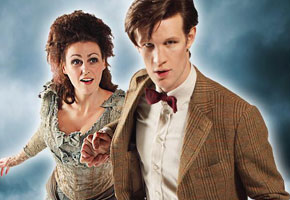 Whovians worldwide are still reeling from Neil Gaiman's super-sexy episode, which premiered last Saturday (May 14). (And, man, that Suranne Jones is a knockout. What a ripe, succulent strawberry of a woman.)
Well, folks, we here at Anglophenia are happy to premiere the Doctor Who Confidential for the "The Doctor's Wife," a 12-minute behind-the-scenes look at the episode. In the video, Matt Smith reveals the Doctor's true feelings toward his alluring new companion Idris: "I think he's astounded, flabbergasted, afraid, endeared, and turned on all at the same time."
And, most brilliantly, you'll see THE Neil Gaiman in the TARDIS reading from his own script, narrating the action. Contain your hysteria and just watch the video already.
For the completists among us, BBCAmerica.com now has all four of the abbreviated Doctor Who Confidential episodes for the current season. Catch up with the series here.
• Now we don't want to go on and on about River Song and who she may be to the Doctor.
And now we don't have to, because Den of Geek have done it for us. Here are several of their favorite possible plot twists that could explain who the (other) good doctor is. Our favorite is either "She's a mixture of all the above theories" or "She's something else altogether."
What do you think?
• Pick your Whovian-lovin' jaws off the ground … the new trailer for Saturday's (May 21) upcoming episode, "The Rebel's Flesh" episode is here! Check out some pics via Digital Spy.
• When dressing up like the Doctor, you have your trusty fez and a velvety bow tie. But what about Matt Smith's plaid tweed blazer, suede arm patches and all? Well, you can now have your very own replica courtesy of Abbyshot via Entertainment Earth for $309 (£190). If you're more of a David Tennant diehard, his camel trench coat is a bit cheaper at $299.99 (£185). Both items ship in August.
• And the Doctor Who fashion show does not stop there. Grab some plain white Keds and get to work on painting your own TARDIS-inspired sneakers, plus Daleks!
• The Silence dolls — mouth closed and mouth open — are coming. June 16 to be exact!
• Steve Mackin of Eastbourne, East Sussex claims he saw something that resembled the TARDIS over the weekend. Yeah, yeah, I'm sure you're having a quiet snicker to yourself, but guy is pretty adamant about seeing an old police box with a blinking orange light peering through some trees. "I'm not lying because there were five of us who have seen it, and that's on my mother's grave," Mackin said. "It was there, honestly. It was really, really weird. I have never seen anything like that in my life, never — not in a million years. It couldn't have been a helicopter, there was not a sound coming from it at all." (Eastbourne Herald)
• And speaking of the TARDIS, the royal blue police box was previously spotted at MIT and now, some clever Cal Tech students have brought it to UC Berkeley. Check out how this fanatical group of Whovians pulls off one of the greatest prank schemes ever via Where's The Tardis?
• Oh and one final TARDIS story. It seems a prop maker called Jason Onion has applied for planning permission to build an official replica of the Doctor's mode of transportation, in Herne Bay, Kent. It would be erected in tribute to BBC scriptwriter Anthony Coburn, who is the man who invented the idea of a public phone box being used as a disguised time machine. Can you even IMAGINE what the Whoniverse would be like if he hadn't had that one moment of inspiration? Less blue, for starters. (via BBC News)
• It's not in our nature to be snippy about the good work performed by the BBC's special effects departments through the years. Doctor Who is a TV show, and has had to operate on a reduced budget compared to, say, Star Wars, and even THAT gets a fresh facelift as soon as any new digital technology hits the market.
Still, it's always fun to have a look at things which perhaps do not hit the mark they were supposed to. So here's a compilation of the 10 worst Doctor Who special effects, which has clearly been made by a superfan (with a lot of time on their hands) called Fedokosmokrator.
http://www.youtube.com/watch?v=WBIajuSEq3Y
• Speaking of making things, if you've ever had to prepare a birthday cake for a Whovian child, and were unsure how to create a Dalek out of sponge and chocolate, allow the good people at Dalek Directory to be your guide. This very informative website can also help you if you wish to buy a Dalek, build a Dalek or even read Dalek fan-fiction.
• Oh and if you fancy a sweet giggle, try putting "Dalek Cake" in a Google image search. Let's just say that some are better than others.
Read More
Filed Under: