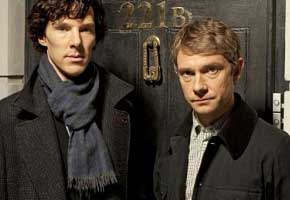 The BBC have announced details of the second series of their award winning modern retelling of the stories of Sherlock Holmes.
Sherlock, which once again stars Benedict Cumberbatch in the title role and Martin Freeman as the loyal Doctor John Watson, will begin shooting in Cardiff and London very soon, and will once again appear as a series of three 90-minute films.
These have been divided between the show's three writers — Steven Moffat, Mark Gatiss and Stephen Thompson, as Steven Moffat explained: "The three stories will be called A Scandal In Belgravia, The Hounds Of Baskerville and The Reichenbach Fall."
True to his grisly League of Gentlemen form, Mark Gatiss is writing the horrific Hounds of the Baskervilles, while Steven Moffat is writing A Scandal In Belgravia. The finale will come from Stephen Thompson, and promises to be, well, something of a cliff-hanger.
Ben Stephenson, the BBC's Controller of Drama Commissioning said: "The hotly anticipated return of BBC One's hit series Sherlock begins filming this week with Benedict Cumberbatch and Martin Freeman in fine form."
Here's a trailer from the first series, to whet your appetites:
What did you think? Tell us here.
Read More
Filed Under: