Did the "fairytale wedding" in a Disney's Cinderella inspire Prince William and Kate Middleton? Were Princesses Beatrice and Eugenie's controversial costumes an homage to Cinderella's wicked stepsisters? A prankster with some design skills released this side-by-side comparison of the royal wedding and the animated 1950 version.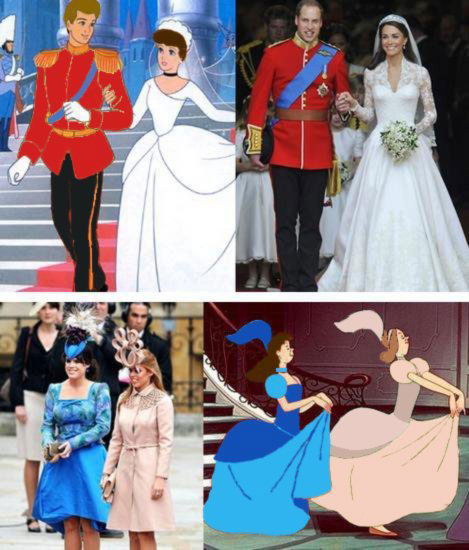 Alas, there's a bit of trickery involved here: the colors of the outfits worn by the animated characters have been altered from their originals. Of course, that hasn't stopped the above image from going viral. See the real images from the Disney classic below.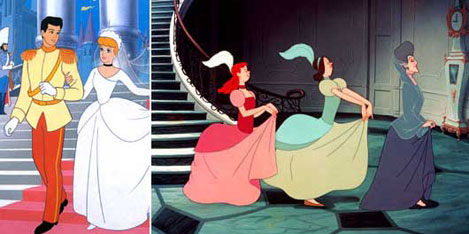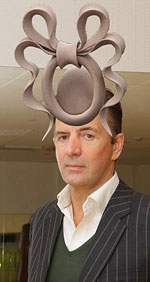 In other royal wedding-related news:
• A British businessman has made a £5,000 ($8,105) bid for Princess Beatrice's much-ridiculed royal wedding hat, which remains up for auction on eBay.
Duncan Bannatyne, best known as a panelist on the UK reality series Dragons' Den, says his bid in all in the service of charity. (Proceeds from the hat sale will go to the charities UNICEF and Children in Crisis.) He tells The Daily Mail: "I'd encourage everyone to get bidding to raise as much money as possible – for once I don't mind if I don't walk away with the deal." UNICEF has released a Photoshopped image of Bannatyne wearing the hat, highlighting its resemblance to a lethal alien parasite.
• Budding trendsetter Pippa Middleton has been seen with a stylish grey Modalu handbag on a few occasions now. Most recently, she had it with her following Kate's royal wedding. Since then, the £149 ($241) leather number has sold-out, and the London-based purse company is honoring Miss Pippa by renaming the purse after her. Such a girl's dream. (Marie Claire UK)
• Things that are hot due to the royal wedding: British newspapers, Aston Martin cars, and fake tans (apparently due to Pippa Middleton's liberal use of bronzer at the nuptials).
• When it comes to indulging in some of the world's finest foods, I'm sure the new the Duke and Duchess of Cambridge have their pick. And it sounds like they're enjoying only the best as they honeymoon in Seychelles: top of the line champagne, quail eggs, and other English treats like Philadelphia cream cheese and Granny Smith apples, says The Sun. Also on the list? Brussel sprouts. Eeeek!
• Next year will see The Queen's 60th year on the throne. To mark her Diamond Jubilee celebration, BBC News reports that "60 commemorative woods" will be constructed at Aigas Field Centre in Ross-shire, Scotland.
Read More
Filed Under: